Paper Folded Flowers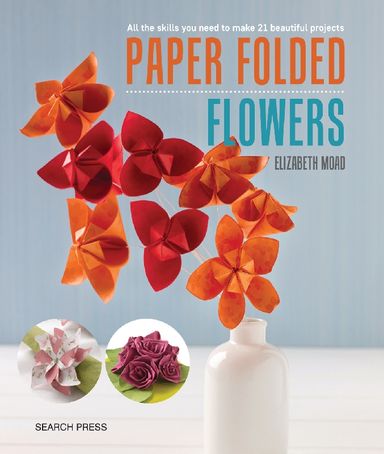 ISBN 9781782214267
Publisher Search Press
Format BC Paperback
Dimensions 190mm x 235mm
Page Extent 96
Pub Date March 2017
Description
Twenty-one floral-themed paper-folding projects for keen papercrafters.
With step-by-step photographic guidance, Elizabeth Moad shows you how to make simple, yet effective, paper flower embellishments, from greeting card adornments to floral bunting and decorations that will brighten any home.
Learn how to apply simple folding techniques such as kirigami and teabag folding to create beautiful blooms for any occasion. There are twenty-one projects in all, ranging from straightforward concertina-fold flowers to elaborate and elegant paper roses.
About the Author
Elizabeth Moad is a busy papercrafter, workshop tutor and author. In 2001 Elizabeth left her job in Cambridge and returned to full time study at Norwich School of Art and Design to complete a fine art degree, specialising in printmaking. During this study Elizabeth developed a passion for all papercrafts. Now accomplished in many crafting techniques, Elizabeth is widely known for her talent in many different papercrafts such as quilling, folding, stamping and collage. She is a regular contributor to UK magazine Crafts Beautiful with monthly paper quilling master classes and also contributes monthly to PaperCrafter! magazine as part of the ask the experts panel. Elizabeth has run craft workshops since 2006 and enjoys teaching regular groups in her home county of Suffolk. Since 2003 Elizabeth has published 7 titles.
Book

0019250 - #9781782214267

Length: 400 mm

Width: 250 mm

Height: 180 mm

Weight: 15000 g
|   | Barcode | Length (mm) | Width (mm) | Height (mm) | Weight (g) |
| --- | --- | --- | --- | --- | --- |
| | 9781782214267 | 400 | 250 | 180 | 15000 |