Made For You Scrapbooking Album 30 x 30cm (12 x 12 inch)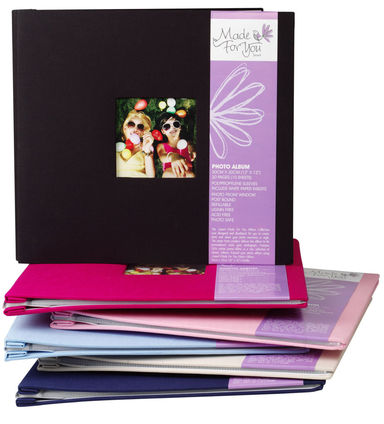 The Jasart Made For You 30 x 30cm (12 x 12 inch) Album Collection was designed and developed for you to create, share and store your photo memories in style.
The photo front window allows the album to be personalised with your photograph.
Features 100% cotton woven fabric in a chic selection of classic colours.
Album contains 20 pages (10 sheets).
Albums are Lingin Free, Acid Free and Photo Safe with polypropylene sleeves including white paper inserts.
Post bound to allow you to expand your photo album using Jasart Made For You Photo Album 30cm x 30cm (12 x 12 inch) Refills.
Dark Pink

0377920 - #9311960377929

Length: 0 mm

Width: 0 mm

Height: 0 mm

Weight: 0 g

Light Pink

0377940 - #9311960377943

Length: 345 mm

Width: 25 mm

Height: 318 mm

Weight: 77 g

Refills

0378010 - #9311960378018

Length: 350 mm

Width: 5 mm

Height: 315 mm

Weight: 29 g
|   | Barcode | Length (mm) | Width (mm) | Height (mm) | Weight (g) |
| --- | --- | --- | --- | --- | --- |
| | 9311960377929 | 0 | 0 | 0 | 0 |
| | 9311960377943 | 345 | 25 | 318 | 77 |
| | 9311960378018 | 350 | 5 | 315 | 29 |