Winsor & Newton Gum Arabic
Winsor & Newton Gum Arabic is a pale coloured solution that controls the spread of wet colour, reduces staining and slows drying to allow more time for blending. It also increases the gloss and transparency of your watercolour paint.
Gain more control over wet watercolour by diluting with water as you require.
Retail Specifications
Barcode
Length
(mm)
Width
(mm)
Height
(mm)
Weight
(g)
EDP: 0120253 75ml
0884955017722
36
58
99
116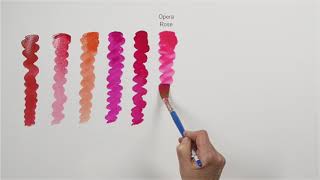 What different pinks do Winsor and Newton offer? | Winsor & Newton Masterclass
This masterclass shows the different pinks Winsor and Newton offer in watercolour and in gouache.
Here we learn a bit about the sourcing and development of pinks, where pigments originate from and their properties.
For example did you know that the now synthetic colour Carmine used to come from crushed beetles or that Rose Madder still comes from a plant root discovered by George Field?
Related Items