STABILO BOSS Original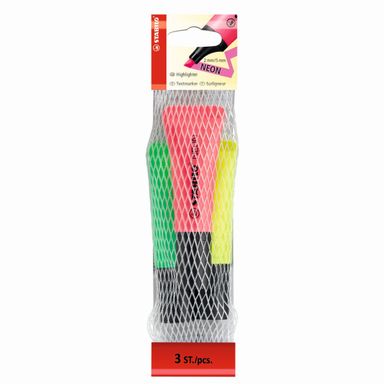 The market leader in highlighting, the STABILO BOSS is the only highlighter available in 9 attractive fluorescent colours.
With Anti-Dry-Out Technology, the highlighter can be left for 4 hours without replacing the cap. Chisel tip fpr 2 line widths: 2 and 5mm.
Water based ink for paper, copy or fax.
The highlighters distinctive design stops it from rolling away.
Length: 139 mm

Width: 109 mm

Height: 33 mm

Weight: 192 g

Length: 139 mm

Width: 109 mm

Height: 33 mm

Weight: 192 g

Length: 139 mm

Width: 109 mm

Height: 33 mm

Weight: 192 g

Pink 70/56

0070823 - #4006381333689

Length: 139 mm

Width: 109 mm

Height: 33 mm

Weight: 192 g

Blue 70/31

0071316 - #4006381333634

Length: 139 mm

Width: 109 mm

Height: 33 mm

Weight: 192 g

Red 70/40

0071324 - #4006381333658

Length: 139 mm

Width: 109 mm

Height: 33 mm

Weight: 192 g

Turquoise 70/51

0072574 - #

Length: 139 mm

Width: 109 mm

Height: 33 mm

Weight: 192 g

Length: 139 mm

Width: 109 mm

Height: 33 mm

Weight: 192 g

Lavender 70/55

0196186 - #

Length: 139 mm

Width: 109 mm

Height: 33 mm

Weight: 192 g

Assorted Colours (Wallet 4)

0070270 - #4006381215695

Length: 120 mm

Width: 134 mm

Height: 15 mm

Weight: 80 g

Assorted Colours (Wallet 6)

0072590 - #4006381215701

Length: 0 mm

Width: 0 mm

Height: 0 mm

Weight: 0 g

Assorted Colours (Wallet 8)

0072605 - #4006381215718

Length: 0 mm

Width: 0 mm

Height: 0 mm

Weight: 0 g

Pastel (Pack 4)

49692 - #4006381492867

Length: 110 mm

Width: 105 mm

Height: 18 mm

Weight: 92 g

Neon

48834 - #4006381401203

Length: 45 mm

Width: 50 mm

Height: 20 mm

Weight: 20 g
 
Barcode
Length (mm)
Width (mm)
Height (mm)
Weight (g)
139
109
33
192
139
109
33
192
139
109
33
192
4006381333689
139
109
33
192
4006381333634
139
109
33
192
4006381333658
139
109
33
192

EDP:0072574

Turquoise 70/51

139
109
33
192
139
109
33
192

EDP:0196186

Lavender 70/55

139
109
33
192

EDP:0070270

Assorted Colours (Wallet 4)

4006381215695
120
134
15
80

EDP:0072590

Assorted Colours (Wallet 6)

4006381215701
0
0
0
0

EDP:0072605

Assorted Colours (Wallet 8)

4006381215718
0
0
0
0

EDP:49692

Pastel (Pack 4)

4006381492867
110
105
18
92
4006381401203
45
50
20
20