Winsor & Newton Artists' Matt Varnish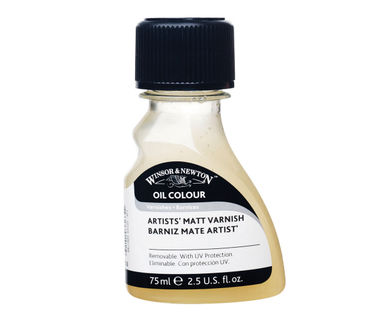 A superior quality UV resistant Artists' Matt Varnish which is removable with Artists' White Spirit or Distilled Turpentine.
It is quick drying, non yellowing and does not bloom or crack.
Do not use until painting is completely dry (6-12 months).
Do not use as a medium.
75ml

0116141 - #0884955014141

Length: 58 mm

Width: 36 mm

Height: 99 mm

Weight: 101 g

250ml

0116158 - #884955014127

Length: 80 mm

Width: 50 mm

Height: 148 mm

Weight: 270 g

500ml

0125074 - #884955014134

Length: 65 mm

Width: 94 mm

Height: 181 mm

Weight: 510 g
|   | Barcode | Length (mm) | Width (mm) | Height (mm) | Weight (g) |
| --- | --- | --- | --- | --- | --- |
| | 0884955014141 | 58 | 36 | 99 | 101 |
| | 884955014127 | 80 | 50 | 148 | 270 |
| | 884955014134 | 65 | 94 | 181 | 510 |
Winsor & Newton Artists' Matt Varnish

Download