Winsor & Newton Drawing Inks Larger Bottles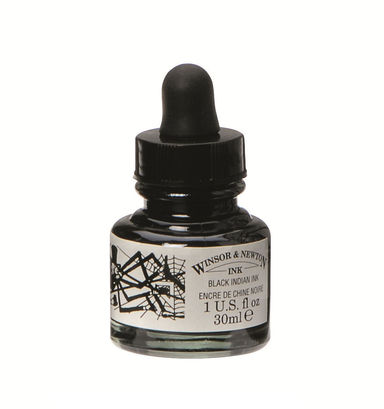 Winsor & Newton Drawing Inks are formulated from a series of soluble dyes in a superior shellac solution. These inks can be applied with brush, dip pen or airbrush and are widely used by designers, calligraphers and artists as well as illustrators.
Liquid Indian Ink, Gold and Silver are not water resistant.
All watercolour brushes can also be used with inks to create interesting texture and lines.
Liquid Indian Ink 30ml (754)

0123292 - #5012572003377

Length: 45 mm

Width: 45 mm

Height: 60 mm

Weight: 118 g

Black (Indian Ink) (951) with Dropper 30ml

0123331 - #0094376895346

Length: 45 mm

Width: 45 mm

Height: 80 mm

Weight: 113 g

Black (Indian Ink) (951) without Dropper 30ml

0127597 - #5012572003384

Length: 45 mm

Width: 45 mm

Height: 60 mm

Weight: 110 g

Black (Indian Ink) (951) 250ml

0123307 - #0094376953053

Length: 65 mm

Width: 65 mm

Height: 163 mm

Weight: 458 g

Black (Indian Ink) (951) 500ml

0123632 - #094376953060

Length: 88 mm

Width: 88 mm

Height: 202 mm

Weight: 850 g

Silver (945) 30ml (617)

0174691 - #5012572003407

Length: 45 mm

Width: 45 mm

Height: 60 mm

Weight: 110 g

Gold (944) 30ml (283)

0164177 - #5012572003391

Length: 45 mm

Width: 45 mm

Height: 60 mm

Weight: 125 g
 
Barcode
Length (mm)
Width (mm)
Height (mm)
Weight (g)

EDP:0123292

Liquid Indian Ink 30ml (754)

5012572003377
45
45
60
118

EDP:0123331

Black (Indian Ink) (951) with Dropper 30ml

0094376895346
45
45
80
113

EDP:0127597

Black (Indian Ink) (951) without Dropper 30ml

5012572003384
45
45
60
110

EDP:0123307

Black (Indian Ink) (951) 250ml

0094376953053
65
65
163
458

EDP:0123632

Black (Indian Ink) (951) 500ml

094376953060
88
88
202
850

EDP:0174691

Silver (945) 30ml (617)

5012572003407
45
45
60
110

EDP:0164177

Gold (944) 30ml (283)

5012572003391
45
45
60
125