Winsor & Newton Sceptre Gold II Brushes Series 202 Designers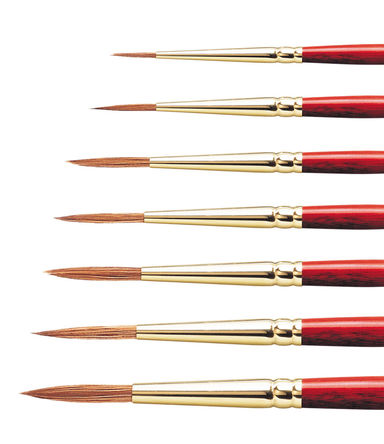 A brush made from a mix of pure sable and synthetic fibres, giving you a performance that's close to sable at a price closer to synthetic. They feature seamless gold plated nickel ferrules and vibrant terracotta stained handles.
Series 202 have a short handle, elongated head shape for precise detail and line work. They are made to the same high standards as Series 101 and give extra fine point and greater colour-holding capacity. Ideal for fine detail work and for use with all media.
Suitable for use with watercolour, fluid oil, acrylic and Griffin Alkyd Fast Drying Oil Colours.
Size 0

0123967 - #0094376862744

Length: 5 mm

Width: 5 mm

Height: 188 mm

Weight: 3 g

Size 1

0123975 - #0094376862751

Length: 5 mm

Width: 5 mm

Height: 191 mm

Weight: 2 g

Size 2

0123983 - #0094376862768

Length: 5 mm

Width: 5 mm

Height: 195 mm

Weight: 2 g

Size 3

0123991 - #0094376862775

Length: 6 mm

Width: 6 mm

Height: 198 mm

Weight: 3 g

Size 4

0124002 - #0094376862782

Length: 6 mm

Width: 6 mm

Height: 199 mm

Weight: 3 g

Size 6

0124028 - #0094376862805

Length: 7 mm

Width: 7 mm

Height: 204 mm

Weight: 6 g
|   | Barcode | Length (mm) | Width (mm) | Height (mm) | Weight (g) |
| --- | --- | --- | --- | --- | --- |
| | 0094376862744 | 5 | 5 | 188 | 3 |
| | 0094376862751 | 5 | 5 | 191 | 2 |
| | 0094376862768 | 5 | 5 | 195 | 2 |
| | 0094376862775 | 6 | 6 | 198 | 3 |
| | 0094376862782 | 6 | 6 | 199 | 3 |
| | 0094376862805 | 7 | 7 | 204 | 6 |