Winsor & Newton Sceptre Gold II Brushes Series 303 Calligraphy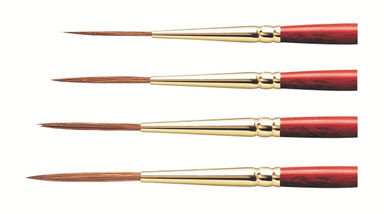 A brush made from a mix of pure sable and synthetic fibres, giving you a performance that's close to sable at a price closer to synthetic. They feature seamless gold plated nickel ferrules and vibrant terracotta stained handles.
Series 303 brushes are longer than Series 202 Designers Brushes. Designed to create fine lines and scroll work, they are for use with all types of media. They have excellent colour carrying capacity and point well for long clear lines without any loss of control.
Suitable for use with watercolour, fluid oil, acrylic and Griffin Alkyd Fast Drying Oil Colours.
Size 0

0124036 - #0094376862812

Length: 5 mm

Width: 5 mm

Height: 198 mm

Weight: 3 g

Size 1

0124044 - #0094376862829

Length: 5 mm

Width: 5 mm

Height: 200 mm

Weight: 2 g

Size 2

0124052 - #0094376862836

Length: 5 mm

Width: 5 mm

Height: 203 mm

Weight: 3 g

Size 3

0124060 - #0094376862843

Length: 6 mm

Width: 6 mm

Height: 205 mm

Weight: 2 g
|   | Barcode | Length (mm) | Width (mm) | Height (mm) | Weight (g) |
| --- | --- | --- | --- | --- | --- |
| | 0094376862812 | 5 | 5 | 198 | 3 |
| | 0094376862829 | 5 | 5 | 200 | 2 |
| | 0094376862836 | 5 | 5 | 203 | 3 |
| | 0094376862843 | 6 | 6 | 205 | 2 |