Winsor & Newton Sceptre Gold II Brushes Series 606 One Stroke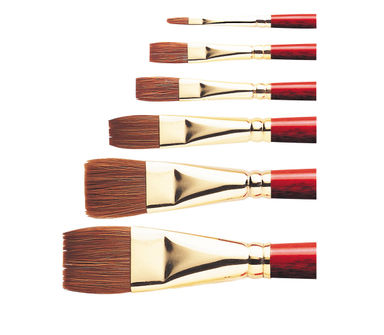 A brush made from a mix of pure sable and synthetic fibres, giving you a performance that's close to sable at a price closer to synthetic. They feature seamless gold plated nickel ferrules and vibrant terracotta stained handles.
Series 606 flat brushes give firm, sharp lines for lettering and one stroke work. Popular for washes in watercolour. They possess great spring and colour carrying capacity.
Suitable for use with watercolour, fluid oil, acrylic and Griffin Alkyd Fast Drying Oil Colours.
Size 3mm (1/8 inch)

0124281 - #094376863093

Length: 6 mm

Width: 6 mm

Height: 179 mm

Weight: 3 g

Size 6mm (1/4 inch)

0124304 - #094376863109

Length: 7 mm

Width: 7 mm

Height: 185 mm

Weight: 4 g

Size 10mm (3/8 inch)

0124312 - #094376863116

Length: 7 mm

Width: 10 mm

Height: 191 mm

Weight: 5 g

Size 13mm (1/2 inch)

0124329 - #0094376863123

Length: 10 mm

Width: 13 mm

Height: 196 mm

Weight: 11 g

Size 19mm (3/4 inch)

0124337 - #094376863130

Length: 12 mm

Width: 19 mm

Height: 230 mm

Weight: 13 g

Size 25mm (1 inch)

0124345 - #094376863147

Length: 15 mm

Width: 25 mm

Height: 237 mm

Weight: 19 g
 
Barcode
Length (mm)
Width (mm)
Height (mm)
Weight (g)

EDP:0124281

Size 3mm (1/8 inch)

094376863093
6
6
179
3

EDP:0124304

Size 6mm (1/4 inch)

094376863109
7
7
185
4

EDP:0124312

Size 10mm (3/8 inch)

094376863116
7
10
191
5

EDP:0124329

Size 13mm (1/2 inch)

0094376863123
10
13
196
11

EDP:0124337

Size 19mm (3/4 inch)

094376863130
12
19
230
13

EDP:0124345

Size 25mm (1 inch)

094376863147
15
25
237
19