Winsor & Newton Winton Oil Colour 200ml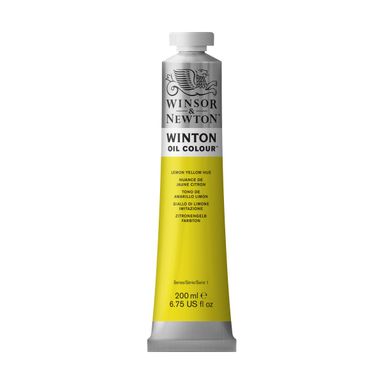 Winton Oil Colour has been developed to provide the highest quality colours at an affordable price. The application of traditional skills and modern colour chemistry techniques has resulted in a range of carefully selected Winton Oil Colours. This has been achieved by replacing some of the more costly traditional pigments with excellent modern alternatives that give high quality at an economical price.
The Winton range has a more uniform consistency than Artists' Oil Colour and is slightly stiffer. It offers excellent retention of brush and palette knife strokes.
Lemon Yellow Hue (346)

0127767 - #094376910377

Length: 49 mm

Width: 49 mm

Height: 218 mm

Weight: 300 g

Cadmium Lemon Hue (087)

0127640 - #0094376910414

Length: 49 mm

Width: 49 mm

Height: 218 mm

Weight: 270 g

Cadmium Yellow Pale Hue (119)

0127686 - #094376910438

Length: 40 mm

Width: 62 mm

Height: 220 mm

Weight: 350 g

Chrome Yellow Hue (149)

0127698 - #0094376910469

Length: 49 mm

Width: 49 mm

Height: 218 mm

Weight: 390 g

Cadmium Yellow Hue (109)

0127678 - #0094376910483

Length: 40 mm

Width: 62 mm

Height: 220 mm

Weight: 340 g

Cadmium Yellow Deep Hue (115)

0127680 - #0094376910490

Length: 49 mm

Width: 49 mm

Height: 218 mm

Weight: 310 g

Cadmium Orange Hue (090)

0127644 - #0094376910513

Length: 40 mm

Width: 62 mm

Height: 220 mm

Weight: 340 g

Flesh Tint (257)

0127727 - #0094376910551

Length: 49 mm

Width: 49 mm

Height: 218 mm

Weight: 400 g

Scarlet Lake (603)

0127832 - #0094376910582

Length: 49 mm

Width: 49 mm

Height: 218 mm

Weight: 360 g

Cadmium Red Hue (095)

0127652 - #0094376910629

Length: 40 mm

Width: 62 mm

Height: 220 mm

Weight: 390 g

Vermilion Hue (682)

0127872 - #0094376910643

Length: 49 mm

Width: 49 mm

Height: 218 mm

Weight: 410 g

Cadmium Scarlet Hue (107)

0074130 - #884955074787

Length: 50 mm

Width: 50 mm

Height: 220 mm

Weight: 350 g

Cadmium Red Deep Hue (098)

0127660 - #0094376910667

Length: 40 mm

Width: 62 mm

Height: 220 mm

Weight: 310 g

Permanent Rose (502)

0127787 - #0094376910711

Length: 49 mm

Width: 49 mm

Height: 218 mm

Weight: 350 g

Permanent Crimson Lake (478)

0127719 - #0094376910742

Length: 49 mm

Width: 49 mm

Height: 218 mm

Weight: 260 g

Permanent Alizarin Crimson (468)

0127610 - #0094376910001

Length: 40 mm

Width: 62 mm

Height: 220 mm

Weight: 270 g

Magenta (380)

0127771 - #0094376910049

Length: 49 mm

Width: 49 mm

Height: 218 mm

Weight: 366 g

Cobalt Violet Hue (194)

0127717 - #0094376910063

Length: 49 mm

Width: 49 mm

Height: 218 mm

Weight: 390 g

Quinacridone Deep Pink (250)

0074110 - #884955074763

Length: 50 mm

Width: 50 mm

Height: 220 mm

Weight: 330 g

Dioxazine Purple (229)

0127721 - #0094376910087

Length: 49 mm

Width: 49 mm

Height: 218 mm

Weight: 367 g

Cerulean Blue Hue (138)

0127694 - #0094376910117

Length: 40 mm

Width: 62 mm

Height: 220 mm

Weight: 440 g

Cobalt Blue Hue (179)

0127709 - #0094376910148

Length: 40 mm

Width: 62 mm

Height: 220 mm

Weight: 389 g

French Ultramarine (263)

0127733 - #0094376910179

Length: 40 mm

Width: 62 mm

Height: 220 mm

Weight: 340 g

Phthalo Blue (516)

0127791 - #0094376910193

Length: 40 mm

Width: 62 mm

Height: 220 mm

Weight: 310 g

Dioxazine Blue (406)

0074170 - #884955074824

Length: 50 mm

Width: 50 mm

Height: 220 mm

Weight: 340 g

Prussian Blue (538)

0127806 - #0094376910216

Length: 40 mm

Width: 62 mm

Height: 220 mm

Weight: 320 g

Emerald Green (241)

0127723 - #0094376910254

Length: 49 mm

Width: 49 mm

Height: 218 mm

Weight: 460 g

Permanent Green Light (483)

0127785 - #0094376910278

Length: 40 mm

Width: 62 mm

Height: 220 mm

Weight: 350 g

Chrome Green Hue (145)

0127696 - #0094376910308

Length: 49 mm

Width: 49 mm

Height: 218 mm

Weight: 400 g

Viridian Hue (696)

0127880 - #0094376910346

Length: 40 mm

Width: 62 mm

Height: 220 mm

Weight: 293 g

Oxide of Chromium (459)

0127777 - #0094376910759

Length: 49 mm

Width: 49 mm

Height: 218 mm

Weight: 490 g

Dark Verdigris (405)

0074160 - #884955074817

Length: 50 mm

Width: 50 mm

Height: 220 mm

Weight: 350 g

Phthalocyanine Deep Green (048)

0074100 - #884955074756

Length: 50 mm

Width: 50 mm

Height: 220 mm

Weight: 280 g

Terre Verte (637)

0127848 - #0094376910773

Length: 49 mm

Width: 49 mm

Height: 218 mm

Weight: 330 g

Sap Green (599)

0127830 - #0094376910797

Length: 40 mm

Width: 62 mm

Height: 220 mm

Weight: 280 g

Phthalocyanine Yellow Green (403)

0074150 - #884955074800

Length: 50 mm

Width: 50 mm

Height: 220 mm

Weight: 330 g

Naples Yellow Hue (422)

0127775 - #0094376910810

Length: 40 mm

Width: 62 mm

Height: 220 mm

Weight: 430 g

Yellow Ochre (744)

0127898 - #0094376910841

Length: 40 mm

Width: 62 mm

Height: 220 mm

Weight: 330 g

Azo Yellow Green (280)

0074120 - #884955074770

Length: 50 mm

Width: 50 mm

Height: 220 mm

Weight: 350 g

Raw Sienna (552)

0127814 - #0094376910865

Length: 40 mm

Width: 62 mm

Height: 220 mm

Weight: 260 g

Light Red (362)

0127769 - #0094376910896

Length: 62 mm

Width: 40 mm

Height: 220 mm

Weight: 380 g

Burnt Sienna (074)

0127628 - #0094376910933

Length: 40 mm

Width: 62 mm

Height: 220 mm

Weight: 314 g

Indian Red (317)

0127737 - #0094376910919

Length: 49 mm

Width: 49 mm

Height: 218 mm

Weight: 450 g

Azo Brown (389)

0074140 - #884955074794

Length: 50 mm

Width: 50 mm

Height: 220 mm

Weight: 360 g

Burnt Umber (076)

0127636 - #094376910964

Length: 62 mm

Width: 40 mm

Height: 220 mm

Weight: 297 g

Vandyke Brown (676)

0127864 - #0094376910988

Length: 40 mm

Width: 62 mm

Height: 220 mm

Weight: 300 g

Raw Umber (554)

0127822 - #0094376911008

Length: 40 mm

Width: 62 mm

Height: 220 mm

Weight: 357 g

Payne's Gray (465)

0127783 - #0094376911022

Length: 40 mm

Width: 62 mm

Height: 220 mm

Weight: 400 g

Ivory Black (331)

0127741 - #094376911046

Length: 40 mm

Width: 62 mm

Height: 220 mm

Weight: 310 g

Lamp Black (337)

0127759 - #0094376911060

Length: 40 mm

Width: 62 mm

Height: 220 mm

Weight: 273 g

Flake White Hue (242)

0127725 - #0094376911183

Length: 49 mm

Width: 49 mm

Height: 218 mm

Weight: 520 g

Soft Mixing White (415)

0245930 - #0884955083833

Length: 40 mm

Width: 62 mm

Height: 220 mm

Weight: 380 g

Titanium White (644)

0127856 - #0884955083758

Length: 62 mm

Width: 40 mm

Height: 220 mm

Weight: 441 g

Zinc White (748)

0127903 - #094376911220

Length: 40 mm

Width: 62 mm

Height: 220 mm

Weight: 492 g
 
Barcode
Length (mm)
Width (mm)
Height (mm)
Weight (g)

EDP:0127767

Lemon Yellow Hue (346)

094376910377
49
49
218
300

EDP:0127640

Cadmium Lemon Hue (087)

0094376910414
49
49
218
270

EDP:0127686

Cadmium Yellow Pale Hue (119)

094376910438
40
62
220
350

EDP:0127698

Chrome Yellow Hue (149)

0094376910469
49
49
218
390

EDP:0127678

Cadmium Yellow Hue (109)

0094376910483
40
62
220
340

EDP:0127680

Cadmium Yellow Deep Hue (115)

0094376910490
49
49
218
310

EDP:0127644

Cadmium Orange Hue (090)

0094376910513
40
62
220
340

EDP:0127727

Flesh Tint (257)

0094376910551
49
49
218
400

EDP:0127832

Scarlet Lake (603)

0094376910582
49
49
218
360

EDP:0127652

Cadmium Red Hue (095)

0094376910629
40
62
220
390

EDP:0127872

Vermilion Hue (682)

0094376910643
49
49
218
410

EDP:0074130

Cadmium Scarlet Hue (107)

884955074787
50
50
220
350

EDP:0127660

Cadmium Red Deep Hue (098)

0094376910667
40
62
220
310

EDP:0127787

Permanent Rose (502)

0094376910711
49
49
218
350

EDP:0127719

Permanent Crimson Lake (478)

0094376910742
49
49
218
260

EDP:0127610

Permanent Alizarin Crimson (468)

0094376910001
40
62
220
270

EDP:0127771

Magenta (380)

0094376910049
49
49
218
366

EDP:0127717

Cobalt Violet Hue (194)

0094376910063
49
49
218
390

EDP:0074110

Quinacridone Deep Pink (250)

884955074763
50
50
220
330

EDP:0127721

Dioxazine Purple (229)

0094376910087
49
49
218
367

EDP:0127694

Cerulean Blue Hue (138)

0094376910117
40
62
220
440

EDP:0127709

Cobalt Blue Hue (179)

0094376910148
40
62
220
389

EDP:0127733

French Ultramarine (263)

0094376910179
40
62
220
340

EDP:0127791

Phthalo Blue (516)

0094376910193
40
62
220
310

EDP:0074170

Dioxazine Blue (406)

884955074824
50
50
220
340

EDP:0127806

Prussian Blue (538)

0094376910216
40
62
220
320

EDP:0127723

Emerald Green (241)

0094376910254
49
49
218
460

EDP:0127785

Permanent Green Light (483)

0094376910278
40
62
220
350

EDP:0127696

Chrome Green Hue (145)

0094376910308
49
49
218
400

EDP:0127880

Viridian Hue (696)

0094376910346
40
62
220
293

EDP:0127777

Oxide of Chromium (459)

0094376910759
49
49
218
490

EDP:0074160

Dark Verdigris (405)

884955074817
50
50
220
350

EDP:0074100

Phthalocyanine Deep Green (048)

884955074756
50
50
220
280

EDP:0127848

Terre Verte (637)

0094376910773
49
49
218
330

EDP:0127830

Sap Green (599)

0094376910797
40
62
220
280

EDP:0074150

Phthalocyanine Yellow Green (403)

884955074800
50
50
220
330

EDP:0127775

Naples Yellow Hue (422)

0094376910810
40
62
220
430

EDP:0127898

Yellow Ochre (744)

0094376910841
40
62
220
330

EDP:0074120

Azo Yellow Green (280)

884955074770
50
50
220
350

EDP:0127814

Raw Sienna (552)

0094376910865
40
62
220
260

EDP:0127769

Light Red (362)

0094376910896
62
40
220
380

EDP:0127628

Burnt Sienna (074)

0094376910933
40
62
220
314

EDP:0127737

Indian Red (317)

0094376910919
49
49
218
450

EDP:0074140

Azo Brown (389)

884955074794
50
50
220
360

EDP:0127636

Burnt Umber (076)

094376910964
62
40
220
297

EDP:0127864

Vandyke Brown (676)

0094376910988
40
62
220
300

EDP:0127822

Raw Umber (554)

0094376911008
40
62
220
357

EDP:0127783

Payne's Gray (465)

0094376911022
40
62
220
400

EDP:0127741

Ivory Black (331)

094376911046
40
62
220
310

EDP:0127759

Lamp Black (337)

0094376911060
40
62
220
273

EDP:0127725

Flake White Hue (242)

0094376911183
49
49
218
520

EDP:0245930

Soft Mixing White (415)

0884955083833
40
62
220
380

EDP:0127856

Titanium White (644)

0884955083758
62
40
220
441

EDP:0127903

Zinc White (748)

094376911220
40
62
220
492