Winsor & Newton Artists' Hog Brushes Long Flat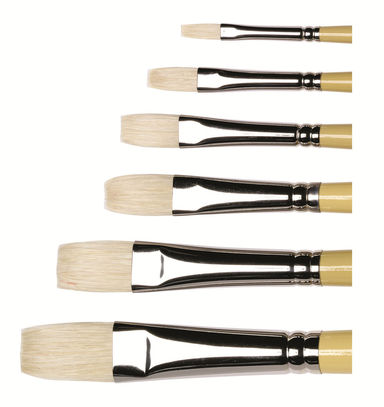 Artists' Hog is a high quality hog brush developed by using the finest Chunking hog bristles. The hair is extremely resilient and the brush retains its working edge and shape for far longer. The bristles are also 'flagged' (i.e. split at the ends) giving the brush the ability to carry more colour and then to apply it evenly to the surface. The natural curve of the bristle is utilised to produce a consistent shape.
The Artists' Hog brush is the choice of brush for oil colour professionals.
The Long Flat Brush is perfect for blending, glazing or covering large areas. This range of brushes feature a longer bristle length for greater colour carrying capacity.
Size 2

0170118 - #0094376873252

Length: 8 mm

Width: 8 mm

Height: 300 mm

Weight: 8 g

Size 12

0170215 - #0094376873351

Length: 17 mm

Width: 24 mm

Height: 350 mm

Weight: 38 g
|   | Barcode | Length (mm) | Width (mm) | Height (mm) | Weight (g) |
| --- | --- | --- | --- | --- | --- |
| | 0094376873252 | 8 | 8 | 300 | 8 |
| | 0094376873351 | 17 | 24 | 350 | 38 |