Winsor & Newton Artists' Hog Brushes Short Flat / Bright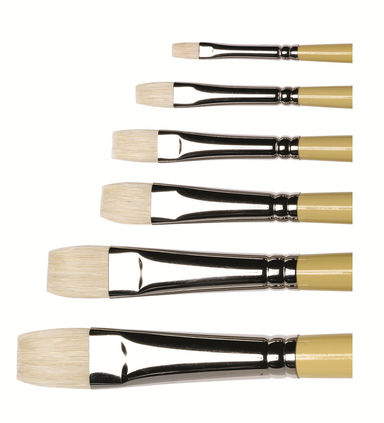 Artists' Hog is a high quality hog brush developed by using the finest Chunking hog bristles. The hair is extremely resilient and the brush retains its working edge and shape for far longer. The bristles are also 'flagged' (i.e. split at the ends) giving the brush the ability to carry more colour and then to apply it evenly to the surface. The natural curve of the bristle is utilised to produce a consistent shape.
The Artists' Hog brush is the choice of brush for oil colour professionals.
The Short Flat/Bright Brush features a short flat head. It creates sharp edges with control. Manufactured with a shorter bristle length, these brushes offer greater control to the artist.
Ideal for use with oil colour and acrylic colour.
Size 2

0170231 - #0094376873672

Length: 8 mm

Width: 8 mm

Height: 285 mm

Weight: 7 g

Size 4

0170257 - #0094376873696

Length: 9 mm

Width: 10 mm

Height: 290 mm

Weight: 9 g

Size 6

0170273 - #0094376873719

Length: 11 mm

Width: 12 mm

Height: 300 mm

Weight: 13 g
|   | Barcode | Length (mm) | Width (mm) | Height (mm) | Weight (g) |
| --- | --- | --- | --- | --- | --- |
| | 0094376873672 | 8 | 8 | 285 | 7 |
| | 0094376873696 | 9 | 10 | 290 | 9 |
| | 0094376873719 | 11 | 12 | 300 | 13 |