Winsor & Newton Cotman Brushes Series 777 Short Handled One Stroke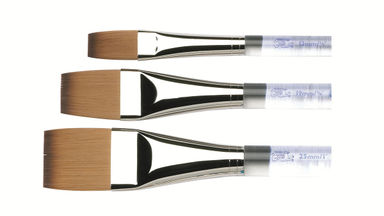 Cotman brushes are a range of pure synthetic watercolour brushes of the highest quality. By blending fibres of differing thickness, the three most important qualities sought after by artists' is acheived. Three thicker fibres contribute strength and spring whilst the thinner fibres improve colour carrying capacity. Together, they retain a perfect point, time after time.
Series 777 brushes are perfect for creating washes, edges or shapes. The handle has a bevelled tip for burnishing or scraping. Similar to Series 666, these wash brushes have transparent handles with beveled ends, which can be used for burnishing, scraping or as a palette knife.
Size 13mm (1/2 inch)

0170891 - #0094376864052

Length: 8 mm

Width: 13 mm

Height: 200 mm

Weight: 10 g

Size 19mm (3/4 inch)

0170906 - #0094376864069

Length: 10 mm

Width: 19 mm

Height: 210 mm

Weight: 19 g

Size 25mm (1 inch)

0170914 - #0094376864076

Length: 12 mm

Width: 25 mm

Height: 220 mm

Weight: 27 g
 
Barcode
Length (mm)
Width (mm)
Height (mm)
Weight (g)

EDP:0170891

Size 13mm (1/2 inch)

0094376864052
8
13
200
10

EDP:0170906

Size 19mm (3/4 inch)

0094376864069
10
19
210
19

EDP:0170914

Size 25mm (1 inch)

0094376864076
12
25
220
27