Winsor & Newton Sceptre Gold II Brushes Series 101 Round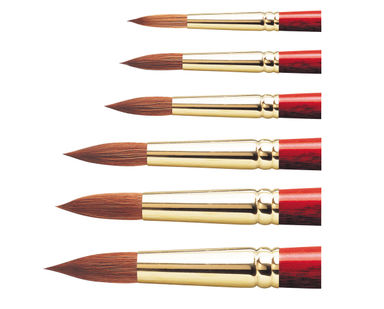 A brush made from a mix of pure sable and synthetic fibres, giving you a performance that's close to sable at a price closer to synthetic. They feature seamless gold plated nickel ferrules and vibrant terracotta stained handles.
Series 101 have a short handle, traditional and popular head shape for all purpose watercolour work. Can be used for broad strokes yet they will also form a sharp point. They possess excellent colour holding capacity, sensitivity, spring and durability.
Suitable for use with watercolour, fluid oil, acrylic and Griffin Alkyd Fast Drying Oil Colours.
Size 0000

0192344 - #0094376862737

Length: 4 mm

Width: 4 mm

Height: 185 mm

Weight: 2 g

Size 000

0192353 - #0094376862720

Length: 5 mm

Width: 5 mm

Height: 182 mm

Weight: 2 g

Size 00

0123829 - #0094376862713

Length: 5 mm

Width: 5 mm

Height: 184 mm

Weight: 2 g

Size 0

0123837 - #0094376862560

Length: 5 mm

Width: 5 mm

Height: 185 mm

Weight: 2 g

Size 1

0123845 - #0094376862577

Length: 5 mm

Width: 5 mm

Height: 188 mm

Weight: 2 g

Size 2

0123853 - #0094376862584

Length: 5 mm

Width: 5 mm

Height: 190 mm

Weight: 3 g

Size 3

0123861 - #0094376862591

Length: 6 mm

Width: 6 mm

Height: 193 mm

Weight: 3 g

Size 4

0123879 - #0094376862607

Length: 6 mm

Width: 6 mm

Height: 195 mm

Weight: 4 g

Size 5

0123887 - #0094376862614

Length: 7 mm

Width: 7 mm

Height: 197 mm

Weight: 4 g

Size 6

0123895 - #0094376862621

Length: 7 mm

Width: 7 mm

Height: 201 mm

Weight: 4 g

Size 7

0123909 - #0094376862638

Length: 8 mm

Width: 8 mm

Height: 205 mm

Weight: 5 g

Size 8

0123917 - #0094376862645

Length: 8 mm

Width: 8 mm

Height: 210 mm

Weight: 6 g

Size 9

0123925 - #0094376862652

Length: 9 mm

Width: 9 mm

Height: 214 mm

Weight: 7 g

Size 10

0123933 - #0094376862669

Length: 10 mm

Width: 10 mm

Height: 217 mm

Weight: 8 g

Size 12

0123941 - #0094376862676

Length: 11 mm

Width: 11 mm

Height: 223 mm

Weight: 9 g

Size 14

0123959 - #0094376862683

Length: 14 mm

Width: 14 mm

Height: 266 mm

Weight: 19 g

Size 16

0208450 - #0094376862690

Length: 17 mm

Width: 17 mm

Height: 268 mm

Weight: 21 g

Size 20

0208460 - #0094376862706

Length: 18 mm

Width: 18 mm

Height: 271 mm

Weight: 31 g
|   | Barcode | Length (mm) | Width (mm) | Height (mm) | Weight (g) |
| --- | --- | --- | --- | --- | --- |
| | 0094376862737 | 4 | 4 | 185 | 2 |
| | 0094376862720 | 5 | 5 | 182 | 2 |
| | 0094376862713 | 5 | 5 | 184 | 2 |
| | 0094376862560 | 5 | 5 | 185 | 2 |
| | 0094376862577 | 5 | 5 | 188 | 2 |
| | 0094376862584 | 5 | 5 | 190 | 3 |
| | 0094376862591 | 6 | 6 | 193 | 3 |
| | 0094376862607 | 6 | 6 | 195 | 4 |
| | 0094376862614 | 7 | 7 | 197 | 4 |
| | 0094376862621 | 7 | 7 | 201 | 4 |
| | 0094376862638 | 8 | 8 | 205 | 5 |
| | 0094376862645 | 8 | 8 | 210 | 6 |
| | 0094376862652 | 9 | 9 | 214 | 7 |
| | 0094376862669 | 10 | 10 | 217 | 8 |
| | 0094376862676 | 11 | 11 | 223 | 9 |
| | 0094376862683 | 14 | 14 | 266 | 19 |
| | 0094376862690 | 17 | 17 | 268 | 21 |
| | 0094376862706 | 18 | 18 | 271 | 31 |