Winsor & Newton Cotman Brushes Series 111 Short Handled Round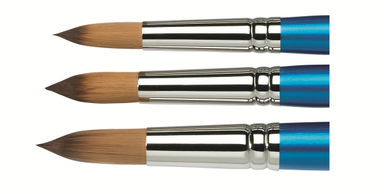 Cotman brushes are a range of pure synthetic watercolour brushes of the highest quality. By blending fibres of differing thickness, the three most important qualities sought after by artists' is achieved. Three thicker fibres contribute strength and spring whilst the thinner fibres improve colour carrying capacity. Together they retain a perfect point, time after time.
Series 111 is perfect for fine detail, lines and washes. It is a traditional and popular head shape for all-purpose watercolour work. Series 111 can be used for broad strokes yet it will also form a sharp point. They possess good colour holding capacity, sensitivity, spring and durability.
Size 0000

0193552 - #0094376872415

Length: 4 mm

Width: 4 mm

Height: 180 mm

Weight: 1 g

Size 000

0193561 - #0094376872422

Length: 5 mm

Width: 5 mm

Height: 182 mm

Weight: 2 g

Size 00

0170402 - #0094376863925

Length: 5 mm

Width: 5 mm

Height: 184 mm

Weight: 2 g

Size 0

0170420 - #094376863826

Length: 5 mm

Width: 5 mm

Height: 185 mm

Weight: 3 g

Size 1

0170428 - #0094376863833

Length: 5 mm

Width: 5 mm

Height: 188 mm

Weight: 3 g

Size 2

0170436 - #0094376863840

Length: 5 mm

Width: 5 mm

Height: 190 mm

Weight: 2 g

Size 3

0170444 - #0094376863857

Length: 6 mm

Width: 6 mm

Height: 193 mm

Weight: 3 g

Size 4

0170452 - #0094376863864

Length: 6 mm

Width: 6 mm

Height: 195 mm

Weight: 3 g

Size 5

0170470 - #0094376872439

Length: 7 mm

Width: 7 mm

Height: 197 mm

Weight: 4 g

Size 6

0170478 - #0094376863871

Length: 7 mm

Width: 7 mm

Height: 201 mm

Weight: 4 g

Size 7

0170485 - #0094376874372

Length: 8 mm

Width: 8 mm

Height: 205 mm

Weight: 4 g

Size 8

0170494 - #0094376863888

Length: 8 mm

Width: 8 mm

Height: 210 mm

Weight: 5 g

Size 9

0170508 - #0094376874389

Length: 9 mm

Width: 9 mm

Height: 214 mm

Weight: 7 g

Size 10

0170516 - #0094376863895

Length: 10 mm

Width: 10 mm

Height: 217 mm

Weight: 9 g

Size 12

0170524 - #0094376863901

Length: 11 mm

Width: 11 mm

Height: 223 mm

Weight: 11 g

Size 14

0170532 - #0094376863918

Length: 14 mm

Width: 14 mm

Height: 266 mm

Weight: 22 g

Size 16

0208470 - #0094376872446

Length: 17 mm

Width: 17 mm

Height: 268 mm

Weight: 27 g

Size 20

0208480 - #0094376872453

Length: 17 mm

Width: 17 mm

Height: 271 mm

Weight: 31 g

Size 24

0208490 - #0094376872460

Length: 22 mm

Width: 22 mm

Height: 295 mm

Weight: 51 g
|   | Barcode | Length (mm) | Width (mm) | Height (mm) | Weight (g) |
| --- | --- | --- | --- | --- | --- |
| | 0094376872415 | 4 | 4 | 180 | 1 |
| | 0094376872422 | 5 | 5 | 182 | 2 |
| | 0094376863925 | 5 | 5 | 184 | 2 |
| | 094376863826 | 5 | 5 | 185 | 3 |
| | 0094376863833 | 5 | 5 | 188 | 3 |
| | 0094376863840 | 5 | 5 | 190 | 2 |
| | 0094376863857 | 6 | 6 | 193 | 3 |
| | 0094376863864 | 6 | 6 | 195 | 3 |
| | 0094376872439 | 7 | 7 | 197 | 4 |
| | 0094376863871 | 7 | 7 | 201 | 4 |
| | 0094376874372 | 8 | 8 | 205 | 4 |
| | 0094376863888 | 8 | 8 | 210 | 5 |
| | 0094376874389 | 9 | 9 | 214 | 7 |
| | 0094376863895 | 10 | 10 | 217 | 9 |
| | 0094376863901 | 11 | 11 | 223 | 11 |
| | 0094376863918 | 14 | 14 | 266 | 22 |
| | 0094376872446 | 17 | 17 | 268 | 27 |
| | 0094376872453 | 17 | 17 | 271 | 31 |
| | 0094376872460 | 22 | 22 | 295 | 51 |