Winsor & Newton Professional Acrylic Fluid Mediums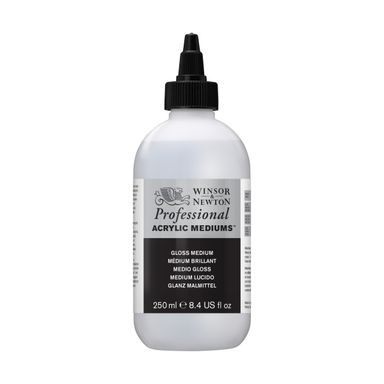 Winsor & Newton's Artists' Acrylic Fluid Mediums are made using the same revolutionary resin as Artists' Acrylic. These mediums ensure no increase in colour shift or loss of colour depth when used with Artists' Acrylic, whilst giving artists' the ultimate control and the ability to explore further possibilities.
Mediums can also help improve durability, extend colour, bring transparency and depth to the film, improve flow and 'brush-ability'.
Gloss Medium 250ml

0375420 - #0884955001837

Length: 59 mm

Width: 59 mm

Height: 158 mm

Weight: 300 g

Glazing Medium 125ml

0391920 - #0884955001721

Length: 44 mm

Width: 44 mm

Height: 108 mm

Weight: 156 g

Matt Medium 250ml

0375430 - #0884955001844

Length: 59 mm

Width: 59 mm

Height: 158 mm

Weight: 300 g

Glazing Medium 250ml

0375410 - #0884955001820

Length: 59 mm

Width: 59 mm

Height: 158 mm

Weight: 290 g

Flow Improver 250ml

0375480 - #0884955001851

Length: 59 mm

Width: 59 mm

Height: 158 mm

Weight: 290 g
 
Barcode
Length (mm)
Width (mm)
Height (mm)
Weight (g)

EDP:0375420

Gloss Medium 250ml

0884955001837
59
59
158
300

EDP:0391920

Glazing Medium 125ml

0884955001721
44
44
108
156

EDP:0375430

Matt Medium 250ml

0884955001844
59
59
158
300

EDP:0375410

Glazing Medium 250ml

0884955001820
59
59
158
290

EDP:0375480

Flow Improver 250ml

0884955001851
59
59
158
290