Winsor & Newton Winton Hog Brushes Short Flat / Bright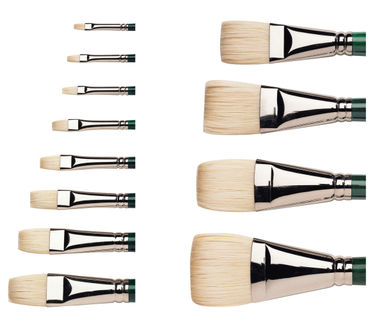 Winton Hog Brushes have been developed for use with Winton Oil Colour, yet, can also be used with all other oils, alkyds and acrylic colours. The brushes are developed from good quality Chinese hog bristles and is hand-set into seamless corrosion-resistant ferrules. The solid wood handles have a green stained finish with five coats of lacquer which provide protection along with a smooth finish for ease of use. The natural curve of the hog bristle produces a resilient brush which retains its 'turned in' shape even after heavy use.
The Short Flat/Bright Brush creates sharp edges with control. The brush shape produces bold, defined marks expected from a flat brush. The shorter bristle length of this style gives greater control of thicker colour or when using large amounts of colour.
Size 1

0210790 - #0094376870169

Length: 7 mm

Width: 7 mm

Height: 295 mm

Weight: 4 g

Size 2

0210800 - #0094376870176

Length: 7 mm

Width: 7 mm

Height: 300 mm

Weight: 6 g

Size 3

0210810 - #0094376870183

Length: 7 mm

Width: 7 mm

Height: 300 mm

Weight: 8 g

Size 4

0210820 - #0094376870190

Length: 8 mm

Width: 9 mm

Height: 310 mm

Weight: 14 g

Size 6

0210830 - #0094376870206

Length: 9 mm

Width: 11 mm

Height: 320 mm

Weight: 11 g

Size 8

0210840 - #0094376870213

Length: 12 mm

Width: 15 mm

Height: 320 mm

Weight: 18 g

Size 10

0210850 - #0094376870220

Length: 15 mm

Width: 20 mm

Height: 330 mm

Weight: 27 g

Size 12

0210860 - #0094376870237

Length: 17 mm

Width: 24 mm

Height: 335 mm

Weight: 33 g

Size 14

0210870 - #0094376870244

Length: 17 mm

Width: 29 mm

Height: 355 mm

Weight: 39 g

Size 16

0210880 - #0094376870251

Length: 17 mm

Width: 33 mm

Height: 355 mm

Weight: 46 g

Size 18

0210890 - #0094376870268

Length: 18 mm

Width: 42 mm

Height: 360 mm

Weight: 59 g

Size 20

0210900 - #0094376870275

Length: 20 mm

Width: 46 mm

Height: 360 mm

Weight: 81 g
|   | Barcode | Length (mm) | Width (mm) | Height (mm) | Weight (g) |
| --- | --- | --- | --- | --- | --- |
| | 0094376870169 | 7 | 7 | 295 | 4 |
| | 0094376870176 | 7 | 7 | 300 | 6 |
| | 0094376870183 | 7 | 7 | 300 | 8 |
| | 0094376870190 | 8 | 9 | 310 | 14 |
| | 0094376870206 | 9 | 11 | 320 | 11 |
| | 0094376870213 | 12 | 15 | 320 | 18 |
| | 0094376870220 | 15 | 20 | 330 | 27 |
| | 0094376870237 | 17 | 24 | 335 | 33 |
| | 0094376870244 | 17 | 29 | 355 | 39 |
| | 0094376870251 | 17 | 33 | 355 | 46 |
| | 0094376870268 | 18 | 42 | 360 | 59 |
| | 0094376870275 | 20 | 46 | 360 | 81 |