Winsor & Newton Winton Hog Brushes Round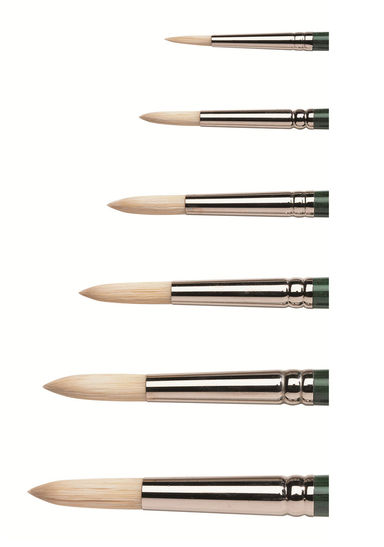 Winton Hog Brushes have been developed for use with Winton Oil Colour, yet, can also be used with all other oils, alkyds and acrylic colours. The brushes are developed from good quality Chinese hog bristles and is hand-set into seamless corrosion-resistant ferrules. The solid wood handles have a green stained finish with five coats of lacquer which provide protection along with a smooth finish for ease of use. The natural curve of the hog bristle produces a resilient brush which retains its 'turned in' shape even after heavy use.
The Round Brush is perfect for fine detail, lines and glazes. The Round is the oldest brush shape, in smaller sizes they are indispensable for detail lines and highlights.
Size 1

0210990 - #0094376870367

Length: 6 mm

Width: 6 mm

Height: 295 mm

Weight: 4 g

Size 2

0211000 - #0094376870374

Length: 7 mm

Width: 7 mm

Height: 295 mm

Weight: 8 g

Size 3

0211010 - #0094376870381

Length: 7 mm

Width: 7 mm

Height: 300 mm

Weight: 8 g

Size 4

0211020 - #0094376870398

Length: 8 mm

Width: 8 mm

Height: 315 mm

Weight: 9 g

Size 6

0211030 - #0094376870404

Length: 10 mm

Width: 10 mm

Height: 320 mm

Weight: 13 g

Size 8

0211040 - #0094376870411

Length: 12 mm

Width: 12 mm

Height: 330 mm

Weight: 19 g

Size 10

0211050 - #0094376870428

Length: 14 mm

Width: 14 mm

Height: 340 mm

Weight: 24 g

Size 12

0211060 - #0094376870435

Length: 16 mm

Width: 16 mm

Height: 355 mm

Weight: 30 g
|   | Barcode | Length (mm) | Width (mm) | Height (mm) | Weight (g) |
| --- | --- | --- | --- | --- | --- |
| | 0094376870367 | 6 | 6 | 295 | 4 |
| | 0094376870374 | 7 | 7 | 295 | 8 |
| | 0094376870381 | 7 | 7 | 300 | 8 |
| | 0094376870398 | 8 | 8 | 315 | 9 |
| | 0094376870404 | 10 | 10 | 320 | 13 |
| | 0094376870411 | 12 | 12 | 330 | 19 |
| | 0094376870428 | 14 | 14 | 340 | 24 |
| | 0094376870435 | 16 | 16 | 355 | 30 |