Winsor & Newton Winton Hog Brushes Fan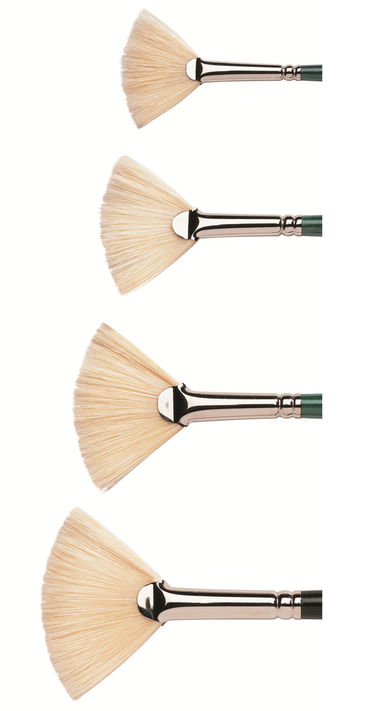 Winton Hog Brushes have been developed for use with Winton Oil Colour, yet, can also be used with all other oils, alkyds and acrylic colours. The brushes are developed from good quality Chinese hog bristles and is hand-set into seamless corrosion-resistant ferrules. The solid wood handles have a green stained finish with five coats of lacquer which provide protection along with a smooth finish for ease of use. The natural curve of the hog bristle produces a resilient brush which retains its 'turned in' shape even after heavy use.
The Fan is a finishing brush mostly used for portraiture and landscapes and is perfect for blending, softening edges and creating textures. They were originally used for blending oil colours on the canvas but are now popular for stippling and graining effects.
Size 1

0211150 - #0094376870527

Length: 7 mm

Width: 30 mm

Height: 310 mm

Weight: 3 g

Size 3

0211160 - #0094376870534

Length: 7 mm

Width: 45 mm

Height: 310 mm

Weight: 8 g

Size 5

0211170 - #0094376870541

Length: 9 mm

Width: 50 mm

Height: 325 mm

Weight: 23 g

Size 8

0211180 - #0094376870558

Length: 9 mm

Width: 60 mm

Height: 325 mm

Weight: 17 g
|   | Barcode | Length (mm) | Width (mm) | Height (mm) | Weight (g) |
| --- | --- | --- | --- | --- | --- |
| | 0094376870527 | 7 | 30 | 310 | 3 |
| | 0094376870534 | 7 | 45 | 310 | 8 |
| | 0094376870541 | 9 | 50 | 325 | 23 |
| | 0094376870558 | 9 | 60 | 325 | 17 |