Winsor & Newton Cotman Watercolour Half Pan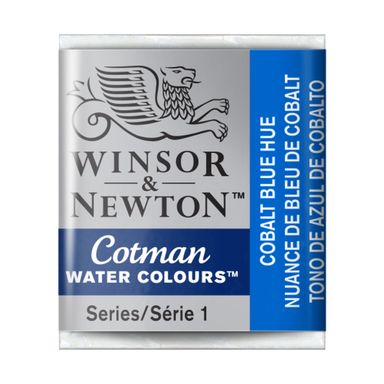 Cotman Watercolours are a range of watercolours that are made to Winsor & Newton's normal high quality standards but is available at an economical price.
The Cotman Watercolour range has a more uniform consistency than the Artists' Watercolour range and this benefits beginners as there is less to learn about each individual pigment.
The Cotman Watercolour range also relates to the Winsor & Newton Artists' Watercolour range, e.g. Burnt Sienna in both ranges has the same hue. This enables artists to use colours from both ranges with minimal adjustment to their technique.
Lemon Yellow Hue (346)

0212440 - #0094376901658

Length: 20 mm

Width: 17 mm

Height: 10 mm

Weight: 4 g

Cadmium Yellow Pale Hue (119)

0212350 - #0094376901504

Length: 20 mm

Width: 17 mm

Height: 10 mm

Weight: 4 g

Gamboge Hue (266)

0212395 - #0094376901566

Length: 20 mm

Width: 17 mm

Height: 10 mm

Weight: 4 g

Cadmium Yellow Hue (109)

0212340 - #0094376901498

Length: 20 mm

Width: 17 mm

Height: 10 mm

Weight: 4 g

Cadmium Orange Hue (090)

0212310 - #0094376901450

Length: 20 mm

Width: 17 mm

Height: 10 mm

Weight: 4 g

Cadmium Red Pale Hue (103)

0212330 - #0094376901481

Length: 20 mm

Width: 17 mm

Height: 10 mm

Weight: 4 g

Cadmium Red Hue (095)

0212315 - #0094376901467

Length: 20 mm

Width: 17 mm

Height: 10 mm

Weight: 4 g

Cadmium Red Deep Hue (098)

0212320 - #0094376901474

Length: 20 mm

Width: 17 mm

Height: 10 mm

Weight: 3 g

Alizarin Crimson (004)

0212280 - #0094376901429

Length: 20 mm

Width: 17 mm

Height: 10 mm

Weight: 4 g

Permanent Rose (502)

0212455 - #0094376901696

Length: 20 mm

Width: 17 mm

Height: 10 mm

Weight: 4 g

Rose Madder (Alizarin Lake) (580)

0212475 - #0094376901740

Length: 20 mm

Width: 17 mm

Height: 10 mm

Weight: 4 g

Purple Lake (544)

0212460 - #0094376901719

Length: 20 mm

Width: 17 mm

Height: 10 mm

Weight: 4 g

Mauve (398)

0212447 - #094376901672

Length: 20 mm

Width: 17 mm

Height: 10 mm

Weight: 4 g

Dioxazine Violet (231)

0212385 - #0094376901542

Length: 20 mm

Width: 17 mm

Height: 10 mm

Weight: 4 g

Ultramarine (660)

0212490 - #0094376901788

Length: 20 mm

Width: 17 mm

Height: 10 mm

Weight: 4 g

Cobalt Blue Hue (179)

0212380 - #0094376901535

Length: 20 mm

Width: 17 mm

Height: 10 mm

Weight: 4 g

Cerulean Blue Hue (139)

0212360 - #0094376901511

Length: 20 mm

Width: 17 mm

Height: 10 mm

Weight: 4 g

Turquoise (654)

0212487 - #0094376901771

Length: 20 mm

Width: 17 mm

Height: 10 mm

Weight: 4 g

Intense Blue (327)

0212420 - #0094376901610

Length: 20 mm

Width: 17 mm

Height: 10 mm

Weight: 4 g

Prussian Blue (538)

0212457 - #0094376901702

Length: 20 mm

Width: 17 mm

Height: 10 mm

Weight: 4 g

Intense Green (329)

0212425 - #0094376901627

Length: 20 mm

Width: 17 mm

Height: 10 mm

Weight: 4 g

Viridian Hue (696)

0212500 - #0094376901801

Length: 20 mm

Width: 17 mm

Height: 10 mm

Weight: 4 g

Emerald (235)

0212390 - #0094376901559

Length: 20 mm

Width: 17 mm

Height: 10 mm

Weight: 4 g

Hooker's Green Dark (312)

0212400 - #0094376901573

Length: 20 mm

Width: 17 mm

Height: 10 mm

Weight: 4 g

Hooker's Green Light (314)

0212405 - #0094376901580

Length: 20 mm

Width: 17 mm

Height: 10 mm

Weight: 4 g

Sap Green (599)

0212480 - #094376901757

Length: 20 mm

Width: 17 mm

Height: 10 mm

Weight: 4 g

Raw Sienna (552)

0212465 - #0094376901726

Length: 20 mm

Width: 17 mm

Height: 10 mm

Weight: 4 g

Yellow Ochre (744)

0212510 - #0094376901818

Length: 20 mm

Width: 17 mm

Height: 10 mm

Weight: 4 g

Raw Umber (554)

0212470 - #0094376901733

Length: 20 mm

Width: 17 mm

Height: 10 mm

Weight: 4 g

Burnt Sienna (074)

0212290 - #0094376901436

Length: 20 mm

Width: 17 mm

Height: 10 mm

Weight: 4 g

Light Red (362)

0212445 - #0094376901665

Length: 20 mm

Width: 17 mm

Height: 10 mm

Weight: 4 g

Indian Red (317)

0212410 - #0094376901597

Length: 20 mm

Width: 17 mm

Height: 10 mm

Weight: 4 g

Burnt Umber (076)

0212300 - #0094376901443

Length: 20 mm

Width: 17 mm

Height: 10 mm

Weight: 4 g

Vandyke Brown (676)

0212495 - #0094376901795

Length: 20 mm

Width: 17 mm

Height: 10 mm

Weight: 4 g

Sepia (609)

0212485 - #0094376901764

Length: 20 mm

Width: 17 mm

Height: 10 mm

Weight: 4 g

Indigo (322)

0212415 - #0094376901603

Length: 20 mm

Width: 17 mm

Height: 10 mm

Weight: 4 g

Payne's Gray (465)

0212450 - #0094376901689

Length: 20 mm

Width: 17 mm

Height: 10 mm

Weight: 4 g

Ivory Black (331)

0212430 - #0094376901634

Length: 20 mm

Width: 17 mm

Height: 10 mm

Weight: 4 g

Lamp Black (337)

0212435 - #0094376901641

Length: 20 mm

Width: 17 mm

Height: 10 mm

Weight: 4 g

Chinese White (150)

0212370 - #0094376901528

Length: 20 mm

Width: 17 mm

Height: 10 mm

Weight: 4 g

Iridescent White (330)

0098450 - #884955090671

Length: 16 mm

Width: 19 mm

Height: 10 mm

Weight: 4 g

Silver (617)

0098420 - #884955090640

Length: 16 mm

Width: 19 mm

Height: 10 mm

Weight: 4 g

Iridescent Blue (472)

0098370 - #884955090619

Length: 16 mm

Width: 19 mm

Height: 10 mm

Weight: 4 g

Pewter (511)

0098430 - #884955090633

Length: 16 mm

Width: 19 mm

Height: 10 mm

Weight: 4 g

Iridescent Black (473)

0098440 - #884955090664

Length: 16 mm

Width: 19 mm

Height: 10 mm

Weight: 4 g

Red Copper (471)

0098410 - #884955090626

Length: 16 mm

Width: 19 mm

Height: 10 mm

Weight: 4 g

Bronze (058)

0098400 - #884955090657

Length: 16 mm

Width: 19 mm

Height: 10 mm

Weight: 4 g

Yellow Gold (88)

0098390 - #884955090602

Length: 16 mm

Width: 19 mm

Height: 10 mm

Weight: 4 g
 
Barcode
Length (mm)
Width (mm)
Height (mm)
Weight (g)

EDP:0212440

Lemon Yellow Hue (346)

0094376901658
20
17
10
4

EDP:0212350

Cadmium Yellow Pale Hue (119)

0094376901504
20
17
10
4

EDP:0212395

Gamboge Hue (266)

0094376901566
20
17
10
4

EDP:0212340

Cadmium Yellow Hue (109)

0094376901498
20
17
10
4

EDP:0212310

Cadmium Orange Hue (090)

0094376901450
20
17
10
4

EDP:0212330

Cadmium Red Pale Hue (103)

0094376901481
20
17
10
4

EDP:0212315

Cadmium Red Hue (095)

0094376901467
20
17
10
4

EDP:0212320

Cadmium Red Deep Hue (098)

0094376901474
20
17
10
3

EDP:0212280

Alizarin Crimson (004)

0094376901429
20
17
10
4

EDP:0212455

Permanent Rose (502)

0094376901696
20
17
10
4

EDP:0212475

Rose Madder (Alizarin Lake) (580)

0094376901740
20
17
10
4

EDP:0212460

Purple Lake (544)

0094376901719
20
17
10
4
094376901672
20
17
10
4

EDP:0212385

Dioxazine Violet (231)

0094376901542
20
17
10
4

EDP:0212490

Ultramarine (660)

0094376901788
20
17
10
4

EDP:0212380

Cobalt Blue Hue (179)

0094376901535
20
17
10
4

EDP:0212360

Cerulean Blue Hue (139)

0094376901511
20
17
10
4

EDP:0212487

Turquoise (654)

0094376901771
20
17
10
4

EDP:0212420

Intense Blue (327)

0094376901610
20
17
10
4

EDP:0212457

Prussian Blue (538)

0094376901702
20
17
10
4

EDP:0212425

Intense Green (329)

0094376901627
20
17
10
4

EDP:0212500

Viridian Hue (696)

0094376901801
20
17
10
4

EDP:0212390

Emerald (235)

0094376901559
20
17
10
4

EDP:0212400

Hooker's Green Dark (312)

0094376901573
20
17
10
4

EDP:0212405

Hooker's Green Light (314)

0094376901580
20
17
10
4

EDP:0212480

Sap Green (599)

094376901757
20
17
10
4

EDP:0212465

Raw Sienna (552)

0094376901726
20
17
10
4

EDP:0212510

Yellow Ochre (744)

0094376901818
20
17
10
4

EDP:0212470

Raw Umber (554)

0094376901733
20
17
10
4

EDP:0212290

Burnt Sienna (074)

0094376901436
20
17
10
4

EDP:0212445

Light Red (362)

0094376901665
20
17
10
4

EDP:0212410

Indian Red (317)

0094376901597
20
17
10
4

EDP:0212300

Burnt Umber (076)

0094376901443
20
17
10
4

EDP:0212495

Vandyke Brown (676)

0094376901795
20
17
10
4
0094376901764
20
17
10
4
0094376901603
20
17
10
4

EDP:0212450

Payne's Gray (465)

0094376901689
20
17
10
4

EDP:0212430

Ivory Black (331)

0094376901634
20
17
10
4

EDP:0212435

Lamp Black (337)

0094376901641
20
17
10
4

EDP:0212370

Chinese White (150)

0094376901528
20
17
10
4

EDP:0098450

Iridescent White (330)

884955090671
16
19
10
4
884955090640
16
19
10
4

EDP:0098370

Iridescent Blue (472)

884955090619
16
19
10
4
884955090633
16
19
10
4

EDP:0098440

Iridescent Black (473)

884955090664
16
19
10
4

EDP:0098410

Red Copper (471)

884955090626
16
19
10
4
884955090657
16
19
10
4

EDP:0098390

Yellow Gold (88)

884955090602
16
19
10
4
Winsor & Newton Cotman Watercolour Half Pan

Download