STABILO Point 88 Sets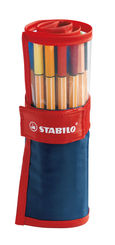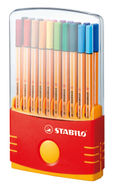 Fineliner with a long life-span and long cap-off time for continuous and worry free writing.
Metal encased tip and line width of 0.4mm makes it easy to write and read.
Made in Germany for long lasting colour and high quality performance.
Available in 25 brilliant colours.
Ventilated cap and water based ink.
ColourParade (Set 20)

0333250 - #4006381363976

Length: 180 mm

Width: 110 mm

Height: 30 mm

Weight: 222 g

Rollerset Navy (Set 25)

0359530 - #4006381360692

Length: 200 mm

Width: 50 mm

Height: 50 mm

Weight: 197 g

Neon Assorted Colours (Pack 5)

0400560 - #4006381438599

Length: 65 mm

Width: 10 mm

Height: 171 mm

Weight: 37 g

Assorted Colours - including 5 Neon (Wallet 15)

0400564 - #4006381438650

Length: 140 mm

Width: 10 mm

Height: 190 mm

Weight: 100 g

Assorted Colours (Wallet 20)

0226860 - #4006381292405

Length: 181 mm

Width: 97 mm

Height: 18 mm

Weight: 132 g

Zebrui 20pc with Tab

0121819 - #4006381352222

Length: 72 mm

Width: 31 mm

Height: 204 mm

Weight: 155 g

Assorted Colours Wallet 6

0213530 - #4006381316132

Length: 65 mm

Width: 173 mm

Height: 10 mm

Weight: 40 g

Assorted Colours Wallet 10

0213532 - #4006381217842

Length: 98 mm

Width: 205 mm

Height: 10 mm

Weight: 60 g
 
Barcode
Length (mm)
Width (mm)
Height (mm)
Weight (g)

EDP:0333250

ColourParade (Set 20)

4006381363976
180
110
30
222

EDP:0359530

Rollerset Navy (Set 25)

4006381360692
200
50
50
197

EDP:0400560

Neon Assorted Colours (Pack 5)

4006381438599
65
10
171
37

EDP:0400564

Assorted Colours - including 5 Neon (Wallet 15)

4006381438650
140
10
190
100

EDP:0226860

Assorted Colours (Wallet 20)

4006381292405
181
97
18
132

EDP:0121819

Zebrui 20pc with Tab

4006381352222
72
31
204
155

EDP:0213530

Assorted Colours Wallet 6

4006381316132
65
173
10
40

EDP:0213532

Assorted Colours Wallet 10

4006381217842
98
205
10
60