Winsor & Newton Visual Diaries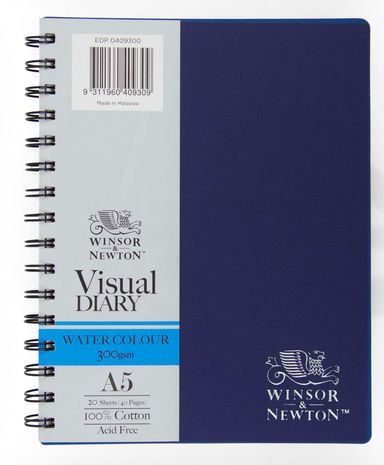 The Winsor & Newton Visual Diary range is versatile, strong and long-lasting. Great for pastel, calligraphy, coloured pencils, gel pencils, gel pens and general work.
Available in a choice of Wire Bound, Wire Bound Black Paper and Hard Bound.
FSC® Certified now also available under new codes.
Cartridge paper Visual Diaries
60 sheets. 110gsm.
Watercolour Visual Diaries
20 sheets. 200gsm and 300gsm. Cold Pressed (Medium) surface.
Heavyweight Cartridge paper Visual Diaries
40 sheets. 165gsm and 200gsm
Wire Bound Black Paper A3. 140gsm. 40sht.

0263940 - #9311960263949

Length: 418 mm

Width: 320 mm

Height: 49 mm

Weight: 900 g

Wire Bound Black Paper 11 X 14 Inch. 110gsm. 40sht. FSC

0089930 - #9311960089938

Length: 279 mm

Width: 15 mm

Height: 356 mm

Weight: 960 g

Wire Bound Heavyweight A4 165gsm. 40sht.

0409230 - #9311960409231

Length: 297 mm

Width: 210 mm

Height: 10 mm

Weight: 500 g

Wire Bound Heavyweight A3 165gsm. 40sht.

0409240 - #9311960409248

Length: 420 mm

Width: 297 mm

Height: 10 mm

Weight: 1000 g

Wire Bound Heavyweight A4 200gsm. 40sht.

0409250 - #9311960409255

Length: 297 mm

Width: 210 mm

Height: 12 mm

Weight: 570 g

Wire Bound Heavyweight A3 200gsm. 40sht.

0409260 - #9311960409262

Length: 420 mm

Width: 297 mm

Height: 12 mm

Weight: 1140 g

Wire Watercolour A5 200gsm. 20sht.

0409280 - #9311960409286

Length: 210 mm

Width: 148 mm

Height: 8 mm

Weight: 115 g

Wire Watercolour A4 200gsm. 20sht.

0409270 - #9311960409279

Length: 297 mm

Width: 210 mm

Height: 8 mm

Weight: 330 g

Wire Watercolour A5 300gsm. 20sht.

0409300 - #9311960409309

Length: 210 mm

Width: 148 mm

Height: 10 mm

Weight: 225 g

Wire Watercolour A4 300gsm. 20sht.

0409290 - #9311960409293

Length: 297 mm

Width: 210 mm

Height: 10 mm

Weight: 450 g

Wire Bound A6. 110gsm. 60sht. FSC

0430330 - #9311960430334

Length: 150 mm

Width: 128 mm

Height: 14 mm

Weight: 132 g

Wire Bound A5. 110gsm. 60sht. FSC

0430450 - #9311960430457

Length: 209 mm

Width: 175 mm

Height: 15 mm

Weight: 252 g

Wire Bound A4. 110gsm. 60sht. FSC

0430440 - #9311960430440

Length: 299 mm

Width: 222 mm

Height: 15 mm

Weight: 520 g

Wire Bound A3. 110gsm. 60sht. FSC

0430420 - #9311960430426

Length: 420 mm

Width: 306 mm

Height: 15 mm

Weight: 1040 g

Wire Bound 11 x 14. 110gsm. 60sht. FSC

0430430 - #9311960430433

Length: 355 mm

Width: 300 mm

Height: 15 mm

Weight: 820 g

Wire Bound A4. Black Cover. Sketch (110gsm) & Write (80gsm Lined). 60sht. FSC

0020340 - #9311960020344

Length: 299 mm

Width: 222 mm

Height: 15 mm

Weight: 520 g

Hard Bound A5. 110gsm. 60sht. FSC

0430480 - #9311960430488

Length: 208 mm

Width: 148 mm

Height: 15 mm

Weight: 400 g

Hard Bound A4. 110gsm. 60sht. FSC

0430470 - #9311960430471

Length: 297 mm

Width: 210 mm

Height: 22 mm

Weight: 500 g

Hard Bound 11 x14 inch. 110gsm. 60sht. FSC

0430460 - #9311960430464

Length: 357 mm

Width: 280 mm

Height: 13 mm

Weight: 900 g

Wire Bound A3 Landscape. Black Cover. 110gsm. 60sht. FSC

0020330 - #9311960020337

Length: 420 mm

Width: 306 mm

Height: 15 mm

Weight: 1040 g

Wire Bound A4 Landscape. Black Cover. 110gsm. 60sht. FSC

0020320 - #9311960020320

Length: 299 mm

Width: 222 mm

Height: 15 mm

Weight: 520 g

Wire Bound A3. Clear Cover. 110gsm. 60sht. FSC

0020310 - #9311960020313

Length: 420 mm

Width: 306 mm

Height: 15 mm

Weight: 1040 g

Wire Bound A4. Clear Cover. 110gsm. 60sht. FSC

0020300 - #9311960020306

Length: 299 mm

Width: 222 mm

Height: 15 mm

Weight: 520 g
 
Barcode
Length (mm)
Width (mm)
Height (mm)
Weight (g)

EDP:0263940

Wire Bound Black Paper A3. 140gsm. 40sht.

9311960263949
418
320
49
900

EDP:0089930

Wire Bound Black Paper 11 X 14 Inch. 110gsm. 40sht. FSC

9311960089938
279
15
356
960

EDP:0409230

Wire Bound Heavyweight A4 165gsm. 40sht.

9311960409231
297
210
10
500

EDP:0409240

Wire Bound Heavyweight A3 165gsm. 40sht.

9311960409248
420
297
10
1000

EDP:0409250

Wire Bound Heavyweight A4 200gsm. 40sht.

9311960409255
297
210
12
570

EDP:0409260

Wire Bound Heavyweight A3 200gsm. 40sht.

9311960409262
420
297
12
1140

EDP:0409280

Wire Watercolour A5 200gsm. 20sht.

9311960409286
210
148
8
115

EDP:0409270

Wire Watercolour A4 200gsm. 20sht.

9311960409279
297
210
8
330

EDP:0409300

Wire Watercolour A5 300gsm. 20sht.

9311960409309
210
148
10
225

EDP:0409290

Wire Watercolour A4 300gsm. 20sht.

9311960409293
297
210
10
450

EDP:0430330

Wire Bound A6. 110gsm. 60sht. FSC

9311960430334
150
128
14
132

EDP:0430450

Wire Bound A5. 110gsm. 60sht. FSC

9311960430457
209
175
15
252

EDP:0430440

Wire Bound A4. 110gsm. 60sht. FSC

9311960430440
299
222
15
520

EDP:0430420

Wire Bound A3. 110gsm. 60sht. FSC

9311960430426
420
306
15
1040

EDP:0430430

Wire Bound 11 x 14. 110gsm. 60sht. FSC

9311960430433
355
300
15
820

EDP:0020340

Wire Bound A4. Black Cover. Sketch (110gsm) & Write (80gsm Lined). 60sht. FSC

9311960020344
299
222
15
520

EDP:0430480

Hard Bound A5. 110gsm. 60sht. FSC

9311960430488
208
148
15
400

EDP:0430470

Hard Bound A4. 110gsm. 60sht. FSC

9311960430471
297
210
22
500

EDP:0430460

Hard Bound 11 x14 inch. 110gsm. 60sht. FSC

9311960430464
357
280
13
900

EDP:0020330

Wire Bound A3 Landscape. Black Cover. 110gsm. 60sht. FSC

9311960020337
420
306
15
1040

EDP:0020320

Wire Bound A4 Landscape. Black Cover. 110gsm. 60sht. FSC

9311960020320
299
222
15
520

EDP:0020310

Wire Bound A3. Clear Cover. 110gsm. 60sht. FSC

9311960020313
420
306
15
1040

EDP:0020300

Wire Bound A4. Clear Cover. 110gsm. 60sht. FSC

9311960020306
299
222
15
520