Winsor & Newton Galeria Brushes Long Round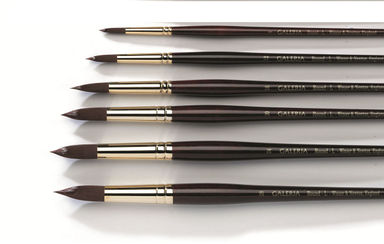 Galeria brushes have been specifically designed for use with acrylic colour. The synthetic filaments in the flats are curved, helping the brushes retain their original shape during use and the rounds offer a good point for delicate linear application. Regardless of the volumes of water used in acrylics, the use of synthetic fibres ensures good shape retention particularly in comparison to traditional hogs.
The Long Round Brush is perfect for fine detail, lines and washes. This long handled Round brush is designed for artists using acrylic colour as a thick medium and who require a controllable and resilient brush. It is also suitable for use with oil and Griffin Alkyd colours.
Size 1

0219506 - #0094376872804

Length: 8 mm

Width: 8 mm

Height: 295 mm

Weight: 6 g

Size 2

0219508 - #0094376872811

Length: 8 mm

Width: 8 mm

Height: 297 mm

Weight: 8 g

Size 4

0219510 - #0094376872828

Length: 7 mm

Width: 7 mm

Height: 302 mm

Weight: 8 g

Size 6

0219512 - #0094376872835

Length: 8 mm

Width: 8 mm

Height: 307 mm

Weight: 8 g

Size 8

0219514 - #0094376872842

Length: 8 mm

Width: 8 mm

Height: 313 mm

Weight: 9 g

Size 12

0219516 - #0094376872859

Length: 11 mm

Width: 11 mm

Height: 326 mm

Weight: 13 g

Size 16

0219518 - #0094376872866

Length: 12 mm

Width: 12 mm

Height: 335 mm

Weight: 19 g

Size 20

0219520 - #0094376872873

Length: 14 mm

Width: 14 mm

Height: 341 mm

Weight: 23 g
|   | Barcode | Length (mm) | Width (mm) | Height (mm) | Weight (g) |
| --- | --- | --- | --- | --- | --- |
| | 0094376872804 | 8 | 8 | 295 | 6 |
| | 0094376872811 | 8 | 8 | 297 | 8 |
| | 0094376872828 | 7 | 7 | 302 | 8 |
| | 0094376872835 | 8 | 8 | 307 | 8 |
| | 0094376872842 | 8 | 8 | 313 | 9 |
| | 0094376872859 | 11 | 11 | 326 | 13 |
| | 0094376872866 | 12 | 12 | 335 | 19 |
| | 0094376872873 | 14 | 14 | 341 | 23 |