Winsor & Newton Galeria Brushes Short Flat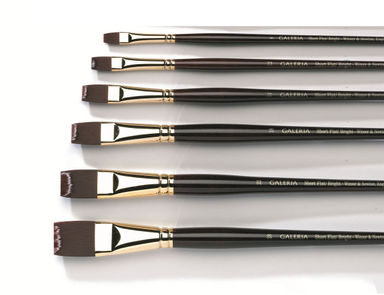 Galeria brushes have been specifically designed for use with acrylic colour. The synthetic filaments in the flats are curved, helping the brushes retain their original shape during use and the rounds offer a good point for delicate linear application. Regardless of the volumes of water used in acrylics, the use of synthetic fibres ensures good shape retention particularly in comparison to traditional hogs.
This brush features a short flat head which creates sharp edges with control. The head features specially shaped fibres, which prevent the hairs splaying and ensure a controlled width of mark.
Size 2

0219526 - #0094376872903

Length: 7 mm

Width: 7 mm

Height: 286 mm

Weight: 6 g

Size 4

0219528 - #0094376872910

Length: 9 mm

Width: 9 mm

Height: 291 mm

Weight: 7 g

Size 8

0219530 - #0094376872927

Length: 9 mm

Width: 10 mm

Height: 303 mm

Weight: 9 g

Size 12

0219532 - #0094376872934

Length: 10 mm

Width: 12 mm

Height: 312 mm

Weight: 13 g

Size 14

0219534 - #0094376872941

Length: 12 mm

Width: 16 mm

Height: 316 mm

Weight: 19 g

Size 18

0219536 - #0094376872958

Length: 15 mm

Width: 21 mm

Height: 326 mm

Weight: 30 g

Size 22

0219538 - #10094376872962

Length: 17 mm

Width: 24 mm

Height: 332 mm

Weight: 42 g

Size 28

0219540 - #0094376872972

Length: 18 mm

Width: 30 mm

Height: 335 mm

Weight: 42 g
|   | Barcode | Length (mm) | Width (mm) | Height (mm) | Weight (g) |
| --- | --- | --- | --- | --- | --- |
| | 0094376872903 | 7 | 7 | 286 | 6 |
| | 0094376872910 | 9 | 9 | 291 | 7 |
| | 0094376872927 | 9 | 10 | 303 | 9 |
| | 0094376872934 | 10 | 12 | 312 | 13 |
| | 0094376872941 | 12 | 16 | 316 | 19 |
| | 0094376872958 | 15 | 21 | 326 | 30 |
| | 10094376872962 | 17 | 24 | 332 | 42 |
| | 0094376872972 | 18 | 30 | 335 | 42 |