Winsor & Newton Galeria Brushes Filbert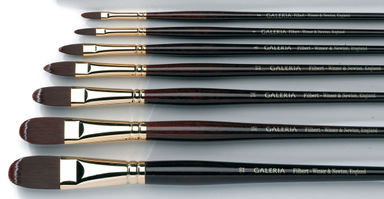 Galeria brushes have been specifically designed for use with acrylic colour. The synthetic filaments in the flats are curved, helping the brushes retain their original shape during use and the rounds offer a good point for delicate linear application. Regardless of the volumes of water used in acrylics, the use of synthetic fibres ensures good shape retention particularly in comparison to traditional hogs.
The Filbert Brush features a flat brush with an oval tip. Usage combines the control of a short flat/bright brush with the softer edges of the round.
Size 2

0219542 - #0094376872989

Length: 7 mm

Width: 7 mm

Height: 292 mm

Weight: 6 g

Size 4

0219544 - #0094376872996

Length: 7 mm

Width: 9 mm

Height: 297 mm

Weight: 6 g

Size 8

0219546 - #0094376873009

Length: 9 mm

Width: 10 mm

Height: 308 mm

Weight: 11 g

Size 12

0219548 - #0094376873016

Length: 10 mm

Width: 12 mm

Height: 320 mm

Weight: 13 g

Size 14

0219550 - #0094376873023

Length: 12 mm

Width: 16 mm

Height: 324 mm

Weight: 14 g

Size 18

0219552 - #0094376873030

Length: 15 mm

Width: 21 mm

Height: 334 mm

Weight: 25 g

Size 22

0219554 - #0094376873047

Length: 17 mm

Width: 24 mm

Height: 340 mm

Weight: 42 g
|   | Barcode | Length (mm) | Width (mm) | Height (mm) | Weight (g) |
| --- | --- | --- | --- | --- | --- |
| | 0094376872989 | 7 | 7 | 292 | 6 |
| | 0094376872996 | 7 | 9 | 297 | 6 |
| | 0094376873009 | 9 | 10 | 308 | 11 |
| | 0094376873016 | 10 | 12 | 320 | 13 |
| | 0094376873023 | 12 | 16 | 324 | 14 |
| | 0094376873030 | 15 | 21 | 334 | 25 |
| | 0094376873047 | 17 | 24 | 340 | 42 |