Winsor & Newton Galeria Brushes One Stroke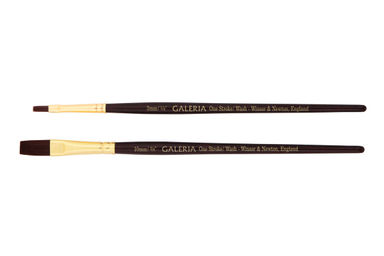 Galeria brushes have been specifically designed for use with acrylic colour. The synthetic filaments in the flats are curved, helping the brushes retain their original shape during use and the rounds offer a good point for delicate linear application. Regardless of the volumes of water used in acrylics, the use of synthetic fibres ensures good shape retention particularly in comparison to traditional hogs.
The One Stroke Brush is a flat wash brush which is perfect for creating edges and shapes or applying washes. This short handled One Stroke Brush is specially designed for artists using acrylic colour in a diluted consistency.
Size 3mm (1/8 inch)

0219556 - #0094376873054

Length: 6 mm

Width: 6 mm

Height: 179 mm

Weight: 3 g

Size 6mm (1/4 inch)

0219558 - #0094376873061

Length: 7 mm

Width: 7 mm

Height: 185 mm

Weight: 4 g

Size 10mm (3/8 inch)

0219560 - #0094376873078

Length: 7 mm

Width: 10 mm

Height: 191 mm

Weight: 4 g

Size 12mm (1/2 inch)

0219562 - #0094376873085

Length: 10 mm

Width: 12 mm

Height: 196 mm

Weight: 9 g

Size 19mm (3/4 inch)

0219564 - #094376873092

Length: 11 mm

Width: 19 mm

Height: 205 mm

Weight: 15 g

Size 25mm (1 inch)

0219566 - #0094376873108

Length: 15 mm

Width: 25 mm

Height: 250 mm

Weight: 19 g
 
Barcode
Length (mm)
Width (mm)
Height (mm)
Weight (g)

EDP:0219556

Size 3mm (1/8 inch)

0094376873054
6
6
179
3

EDP:0219558

Size 6mm (1/4 inch)

0094376873061
7
7
185
4

EDP:0219560

Size 10mm (3/8 inch)

0094376873078
7
10
191
4

EDP:0219562

Size 12mm (1/2 inch)

0094376873085
10
12
196
9

EDP:0219564

Size 19mm (3/4 inch)

094376873092
11
19
205
15

EDP:0219566

Size 25mm (1 inch)

0094376873108
15
25
250
19