Speedball Artists & Mapping Pen Nibs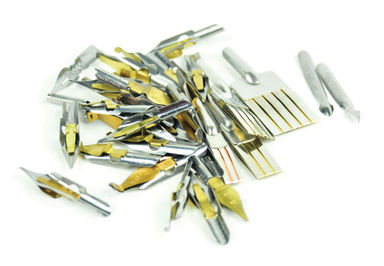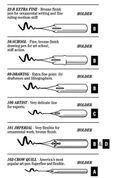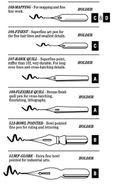 Made from the finest steel the Speedball Sketching Nibs offer various line widths and degrees of stifness to give perfect control for the various drawing styles.
Pen holder is not included when Nibs are purchased seperately.
The Quill and Nib Holder Sets come ready to use with appropriate Nib and Pen Holder in one purchase.
Artists Nib 22B

0221140 - #

Length: 0 mm

Width: 0 mm

Height: 0 mm

Weight: 0 g

Artists Nib 99

0221080 - #079946094091

Length: 0 mm

Width: 0 mm

Height: 0 mm

Weight: 0 g

Artists Nib 107

0221160 - #

Length: 0 mm

Width: 0 mm

Height: 0 mm

Weight: 0 g

Artists Nib 108

0221170 - #

Length: 0 mm

Width: 0 mm

Height: 0 mm

Weight: 0 g

Hawk Quill Nib and Holder 107C

0221230 - #

Length: 0 mm

Width: 0 mm

Height: 0 mm

Weight: 0 g
 
Barcode
Length (mm)
Width (mm)
Height (mm)
Weight (g)

EDP:0221140

Artists Nib 22B

0
0
0
0

EDP:0221080

Artists Nib 99

079946094091
0
0
0
0

EDP:0221160

Artists Nib 107

0
0
0
0

EDP:0221170

Artists Nib 108

0
0
0
0

EDP:0221230

Hawk Quill Nib and Holder 107C

0
0
0
0