Winsor & Newton Texture Medium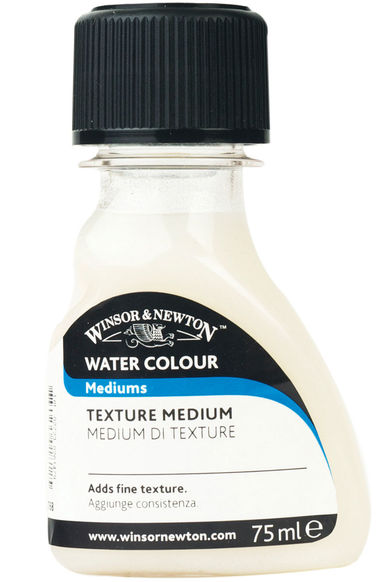 Winsor & Newton Watercolour Texture Medium contains fine particles and increases the structure and texture of your watercolour paint. This medium gives depth and interesting texture, especially when painting organic objects such as animals and landscape scenes.
Mix with watercolour paint or use on its own to create texture and structure before painting over.
It is ideal for emphasising areas such as sandy beaches or the bark of a tree in figurative paintings.
Used with multiple washes, Texture Medium catches different layers of colour and really gives a new dimension to watercolour painting.
75ml

0244640 - #0884955018125

Length: 36 mm

Width: 58 mm

Height: 99 mm

Weight: 106 g
|   | Barcode | Length (mm) | Width (mm) | Height (mm) | Weight (g) |
| --- | --- | --- | --- | --- | --- |
| | 0884955018125 | 36 | 58 | 99 | 106 |
Winsor & Newton Watercolour Texture Medium

Download