Reeves Watercolour Sets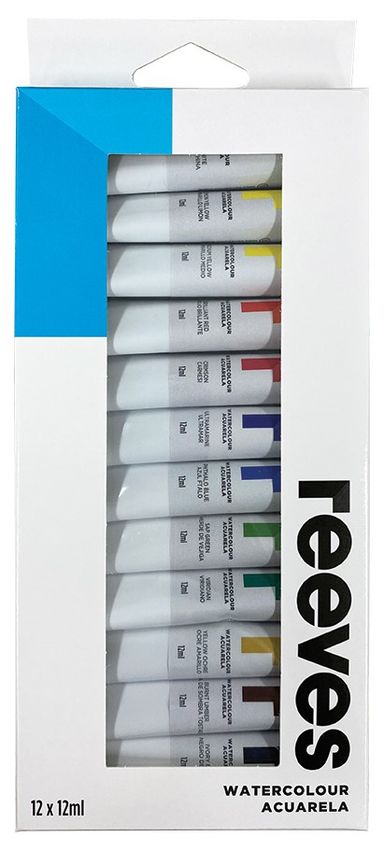 Reeves Watercolour Paints possess excellent lightfastness and colour brilliance qualities.
Watercolour is one of the most widely used painting methods in the world.
Its popularity can be attributed to the wonderful effects of light and texture that can be achieved when using watercolour.
Reeves Watercolour paints require no solvents and are diluted with water, brushes and other painting materials can be cleaned up easily with soap and water.
Watercolour is the perfect medium for use in colleges, at home, or in a studio.
5 x 22ml Tubes with Brush

0011550 - #780804862065

Length: 0 mm

Width: 0 mm

Height: 0 mm

Weight: 0 g

12 x 12ml Tubes

0007720 - #0780804861662

Length: 265 mm

Width: 104 mm

Height: 21 mm

Weight: 220 g

18 x 12ml Tubes

0007730 - #0780804861778

Length: 225 mm

Width: 185 mm

Height: 20 mm

Weight: 370 g

8 Pan

0011620 - #780804862140

Length: 59 mm

Width: 235 mm

Height: 18 mm

Weight: 100 g

12 Colour Pocket Set

0008970 - #780804862157

Length: 142 mm

Width: 90 mm

Height: 20 mm

Weight: 142 g

12 Pan Tin plus Brush

0009830 - #0780804862232

Length: 250 mm

Width: 76 mm

Height: 20 mm

Weight: 166 g

24 Colour Tin Set

0067770 - #9311960067776

Length: 18 mm

Width: 98 mm

Height: 244 mm

Weight: 250 g

36 Colour Tin Set

0067780 - #9311960067783

Length: 20 mm

Width: 131 mm

Height: 244 mm

Weight: 370 g
 
Barcode
Length (mm)
Width (mm)
Height (mm)
Weight (g)

EDP:0011550

5 x 22ml Tubes with Brush

780804862065
0
0
0
0

EDP:0007720

12 x 12ml Tubes

0780804861662
265
104
21
220

EDP:0007730

18 x 12ml Tubes

0780804861778
225
185
20
370
780804862140
59
235
18
100

EDP:0008970

12 Colour Pocket Set

780804862157
142
90
20
142

EDP:0009830

12 Pan Tin plus Brush

0780804862232
250
76
20
166

EDP:0067770

24 Colour Tin Set

9311960067776
18
98
244
250

EDP:0067780

36 Colour Tin Set

9311960067783
20
131
244
370