Winsor & Newton Artisan Brushes Long Handled Flat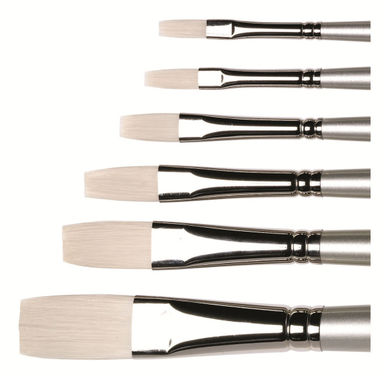 The Artisan brush is developed with a unique blend of high quality synthetic fibres, making it perfect for working with thick, full bodied colour straight from the tube.
Artisan brushes are able to maintain strength, a fine point, excellent spring and durability use after use. Strong, durable and cleans easily.
The Long Handled Flat Brush features a long flat head which helps cover large areas with the flat side. The brush renders thin lines with the edge and is also ideal for glazing.
Ideal for use with Artisan water mixable oil colour, but can also be used with conventional oils, acrylics and alkyds.
Size 2

0248170 - #0094376909319

Length: 7 mm

Width: 7 mm

Height: 290 mm

Weight: 6 g

Size 4

0248180 - #0094376909326

Length: 7 mm

Width: 7 mm

Height: 296 mm

Weight: 7 g

Size 8

0248200 - #0094376909340

Length: 8 mm

Width: 10 mm

Height: 309 mm

Weight: 18 g

Size 12

0248210 - #0094376909357

Length: 9 mm

Width: 12 mm

Height: 320 mm

Weight: 18 g
|   | Barcode | Length (mm) | Width (mm) | Height (mm) | Weight (g) |
| --- | --- | --- | --- | --- | --- |
| | 0094376909319 | 7 | 7 | 290 | 6 |
| | 0094376909326 | 7 | 7 | 296 | 7 |
| | 0094376909340 | 8 | 10 | 309 | 18 |
| | 0094376909357 | 9 | 12 | 320 | 18 |