Jasart Studio Colour Pencil Sets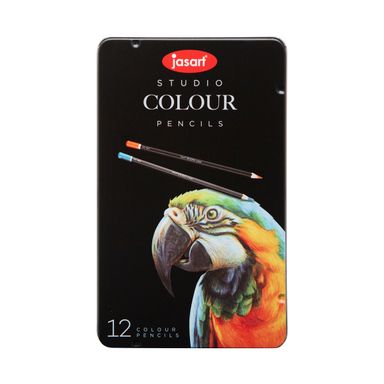 These Premium Colour Pencils have extra smooth brilliant colours with soft, break resistant leads.
The Jasart Premium colour pencil offers excellent colour laydown and are non-toxic & acid free.
Ideal for students, artists and hobbyists.
Variety of pack sizes available.
Tin 12

Tin 24

Tin 36

Tin 72
Also available in 72 individual colours.
Tin 12 [ FSC 100% ]

0031680 - #9311960031685

Length: 191 mm

Width: 118 mm

Height: 14 mm

Weight: 182 g

Tin 24

0401770 - #9311960401778

Length: 0 mm

Width: 0 mm

Height: 0 mm

Weight: 0 g

Tin 24 [ FSC 100% ]

0031690 - #9311960031692

Length: 215 mm

Width: 191 mm

Height: 14 mm

Weight: 330 g

Tin 36 [ FSC 100% ]

0031700 - #9311960031708

Length: 308 mm

Width: 191 mm

Height: 14 mm

Weight: 484 g

Tin 72 [ FSC 100% ]

0031710 - #9311960031715

Length: 190 mm

Width: 335 mm

Height: 25 mm

Weight: 720 g
 
Barcode
Length (mm)
Width (mm)
Height (mm)
Weight (g)

EDP:0031680

Tin 12 [ FSC 100% ]

9311960031685
191
118
14
182
9311960401778
0
0
0
0

EDP:0031690

Tin 24 [ FSC 100% ]

9311960031692
215
191
14
330

EDP:0031700

Tin 36 [ FSC 100% ]

9311960031708
308
191
14
484

EDP:0031710

Tin 72 [ FSC 100% ]

9311960031715
190
335
25
720