Jasart Studio Watercolour Pencil Sets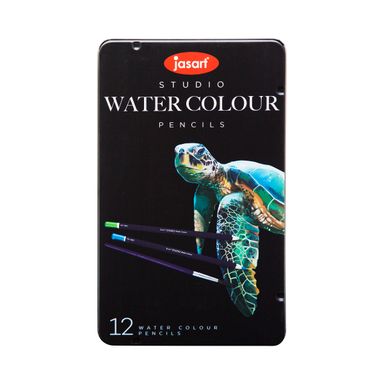 These artists' quality watercolour pencils are designed to perform.
High quality wood means they sharpen smoothly and the centered leads are fully bonded to the wood to prevent breakage.
Completely aquarellable, ideal for blending using wet or dry techniques to create a wide range of exciting effects.
Variety of pack sizes available.
Tin 12
Tin 24
Tin 36
Tin 72
Also available in 72 individual colours.
Tin 12 [ FSC 100% ]

0031730 - #9311960031739

Length: 191 mm

Width: 118 mm

Height: 14 mm

Weight: 182 g

Tin 24 [ FSC 100% ]

0031740 - #9311960031746

Length: 215 mm

Width: 191 mm

Height: 14 mm

Weight: 330 g

Tin 36 [ FSC 100% ]

0031750 - #9311960031753

Length: 308 mm

Width: 191 mm

Height: 14 mm

Weight: 484 g

Tin 72 [ FSC 100% ]

0031760 - #9311960031760

Length: 190 mm

Width: 335 mm

Height: 25 mm

Weight: 720 g
 
Barcode
Length (mm)
Width (mm)
Height (mm)
Weight (g)

EDP:0031730

Tin 12 [ FSC 100% ]

9311960031739
191
118
14
182

EDP:0031740

Tin 24 [ FSC 100% ]

9311960031746
215
191
14
330

EDP:0031750

Tin 36 [ FSC 100% ]

9311960031753
308
191
14
484

EDP:0031760

Tin 72 [ FSC 100% ]

9311960031760
190
335
25
720