Jasart Gold Taklon Angle Brushes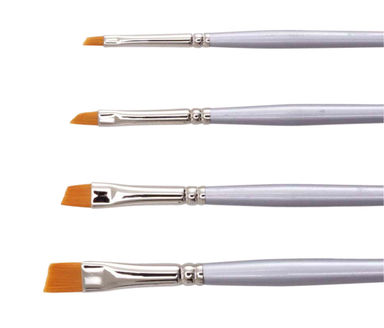 Angle Gold Taklon brushes are excellent for precise strokes and shading. Also ideal for Folk Art and Ceramics.
Synthetic hair filaments are an excellent alternative to natural hair, ideal for Acrylic, Watercolour, Poster Colour, Gouache and Tempera.
Features include Angle bristle shape with short silver handle.
Size 2 (Hangsell)

0319440 - #9311960319448

Length: 275 mm

Width: 45 mm

Height: 5 mm

Weight: 8 g

Size 2

0071590 - #9311960071599

Length: 5 mm

Width: 5 mm

Height: 179 mm

Weight: 5 g

Size 4 (Hangsell)

0319450 - #9311960319455

Length: 275 mm

Width: 45 mm

Height: 5 mm

Weight: 8 g

Size 4

0071600 - #9311960071605

Length: 6 mm

Width: 6 mm

Height: 187 mm

Weight: 7 g

Size 6 (Hangsell)

0319460 - #9311960319462

Length: 275 mm

Width: 45 mm

Height: 7 mm

Weight: 10 g

Size 6

0071610 - #9311960071612

Length: 7 mm

Width: 7 mm

Height: 194 mm

Weight: 9 g

Size 10 (Hangsell)

0319470 - #9311960319479

Length: 275 mm

Width: 45 mm

Height: 8 mm

Weight: 10 g

Size 10

0071620 - #9311960071629

Length: 9 mm

Width: 9 mm

Height: 201 mm

Weight: 10 g
 
Barcode
Length (mm)
Width (mm)
Height (mm)
Weight (g)

EDP:0319440

Size 2 (Hangsell)

9311960319448
275
45
5
8
9311960071599
5
5
179
5

EDP:0319450

Size 4 (Hangsell)

9311960319455
275
45
5
8
9311960071605
6
6
187
7

EDP:0319460

Size 6 (Hangsell)

9311960319462
275
45
7
10
9311960071612
7
7
194
9

EDP:0319470

Size 10 (Hangsell)

9311960319479
275
45
8
10
9311960071629
9
9
201
10