Jasart Polystyrene Shapes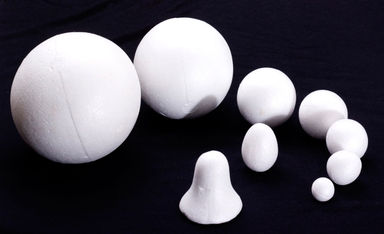 Polystyrene shapes offer a basic structural form to build on and create your crafty project.
Ideal for making faces, baubles, or to simply paint, pin or glue on embellishments!
Can be painted for astrology class or used as armatures (frames) onto which clay can be modelled (they enable economic use of air-drying clay).
Available in a variety of shapes and sizes.
Balls 150mm

0324220 - #9311960324220

Length: 150 mm

Width: 150 mm

Height: 150 mm

Weight: 44 g

Balls 75mm (Pack 25)

0324250 - #9311960324251

Length: 360 mm

Width: 360 mm

Height: 75 mm

Weight: 134 g

Balls 60mm (Pack 25)

0324280 - #9311960324282

Length: 300 mm

Width: 280 mm

Height: 60 mm

Weight: 63 g

Balls 25mm (Pack 100)

0324230 - #9311960324237

Length: 240 mm

Width: 180 mm

Height: 25 mm

Weight: 23 g

Bells 65 x 60mm (Pack 25)

0324260 - #9311960324268

Length: 340 mm

Width: 330 mm

Height: 65 mm

Weight: 56 g
 
Barcode
Length (mm)
Width (mm)
Height (mm)
Weight (g)
9311960324220
150
150
150
44

EDP:0324250

Balls 75mm (Pack 25)

9311960324251
360
360
75
134

EDP:0324280

Balls 60mm (Pack 25)

9311960324282
300
280
60
63

EDP:0324230

Balls 25mm (Pack 100)

9311960324237
240
180
25
23

EDP:0324260

Bells 65 x 60mm (Pack 25)

9311960324268
340
330
65
56