Jasart Art Board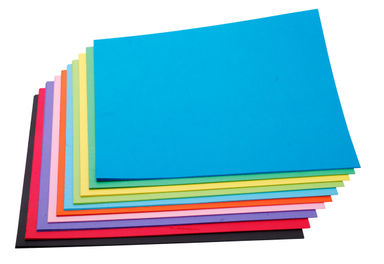 Jasart Art Board is available in assorted vibrant colours ideal for class projects, home decoration and office presentations.
This board is a heavyweight at 200gsm suitable for paper models and drawing with pencil, pastel, charcoal and tempera paints.
Jasart Art Board is easy to fold and cut which makes it a versatile must have board for around the house, classroom art and craft box.
510 x 640mm Black (Pack 20)

0325510 - #9311960325517

Length: 640 mm

Width: 510 mm

Height: 5 mm

Weight: 1306 g

510 x 640mm Dark Blue (Pack 20)

0325520 - #9311960325524

Length: 640 mm

Width: 510 mm

Height: 5 mm

Weight: 1306 g

510 x 640mm Light Blue (Pack 20)

0325530 - #9311960325531

Length: 640 mm

Width: 510 mm

Height: 5 mm

Weight: 1306 g

510 x 640mm Emerald (Pack 20)

0325540 - #9311960325548

Length: 640 mm

Width: 510 mm

Height: 5 mm

Weight: 1306 g

510 x 640mm Gold (Pack 20)

0325550 - #9311960325555

Length: 640 mm

Width: 510 mm

Height: 5 mm

Weight: 1306 g

510 x 640mm Lime (Pack 20)

0325560 - #9311960325562

Length: 640 mm

Width: 510 mm

Height: 5 mm

Weight: 1306 g

510 x 640mm Orange (Pack 20)

0325570 - #9311960325579

Length: 640 mm

Width: 510 mm

Height: 5 mm

Weight: 1306 g

510 x 640mm Pink (Pack 20)

0325580 - #9311960325586

Length: 640 mm

Width: 510 mm

Height: 5 mm

Weight: 1306 g

510 x 640mm Purple (Pack 20)

0325590 - #9311960325593

Length: 640 mm

Width: 510 mm

Height: 5 mm

Weight: 1306 g

510 x 640mm Red (Pack 20)

0325600 - #9311960325609

Length: 640 mm

Width: 510 mm

Height: 5 mm

Weight: 1306 g

510 x 640mm White (Pack 20)

0325610 - #9311960325616

Length: 640 mm

Width: 510 mm

Height: 5 mm

Weight: 1306 g

510 x 640mm Yellow (Pack 20)

0325620 - #9311960325623

Length: 640 mm

Width: 510 mm

Height: 5 mm

Weight: 1306 g

510 x 640mm Assorted (Pack 100)

0325630 - #9311960325630

Length: 640 mm

Width: 510 mm

Height: 26 mm

Weight: 6528 g
 
Barcode
Length (mm)
Width (mm)
Height (mm)
Weight (g)

EDP:0325510

510 x 640mm Black (Pack 20)

9311960325517
640
510
5
1306

EDP:0325520

510 x 640mm Dark Blue (Pack 20)

9311960325524
640
510
5
1306

EDP:0325530

510 x 640mm Light Blue (Pack 20)

9311960325531
640
510
5
1306

EDP:0325540

510 x 640mm Emerald (Pack 20)

9311960325548
640
510
5
1306

EDP:0325550

510 x 640mm Gold (Pack 20)

9311960325555
640
510
5
1306

EDP:0325560

510 x 640mm Lime (Pack 20)

9311960325562
640
510
5
1306

EDP:0325570

510 x 640mm Orange (Pack 20)

9311960325579
640
510
5
1306

EDP:0325580

510 x 640mm Pink (Pack 20)

9311960325586
640
510
5
1306

EDP:0325590

510 x 640mm Purple (Pack 20)

9311960325593
640
510
5
1306

EDP:0325600

510 x 640mm Red (Pack 20)

9311960325609
640
510
5
1306

EDP:0325610

510 x 640mm White (Pack 20)

9311960325616
640
510
5
1306

EDP:0325620

510 x 640mm Yellow (Pack 20)

9311960325623
640
510
5
1306

EDP:0325630

510 x 640mm Assorted (Pack 100)

9311960325630
640
510
26
6528