Jasart Cover Paper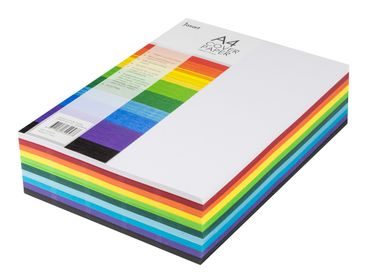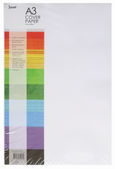 Jasart Cover Paper comes in assorted colour packs or in single coloured packs.
11 colours to choose from.
The Jasart Cover Paper is slightly stiffer at 125gsm than Poster paper or Kraft paper which makes it an ideal paper for construction and modelling projects.
Suitable for the home, office and classroom it can also be used for posters and charts.
Cover Paper A4 Assorted Colours (Pack 500)

0329570 - #9311960329577

Length: 297 mm

Width: 210 mm

Height: 82 mm

Weight: 3898 g

Cover Paper 380 x 510mm Assorted Colours (Pack 500)

0329600 - #9311960329607

Length: 510 mm

Width: 380 mm

Height: 82 mm

Weight: 12112 g

Cover Paper 760 x 510mm Assorted Colours (Pack 250)

0329610 - #9311960329614

Length: 760 mm

Width: 510 mm

Height: 41 mm

Weight: 12112 g

A4 Black (Pack 500)

0329630 - #9311960329638

Length: 297 mm

Width: 210 mm

Height: 82 mm

Weight: 3898 g

A4 White (Pack 500)

0329640 - #9311960329645

Length: 295 mm

Width: 215 mm

Height: 80 mm

Weight: 0 g

A3 White (Pack 500)

0329760 - #9311960329768

Length: 420 mm

Width: 297 mm

Height: 82 mm

Weight: 7796 g

A4 Yellow (Pack 500)

0329730 - #9311960329737

Length: 0 mm

Width: 0 mm

Height: 0 mm

Weight: 0 g

A3 Yellow (Pack 500)

0329840 - #9311960329843

Length: 0 mm

Width: 0 mm

Height: 0 mm

Weight: 0 g

A4 Orange (Pack 500)

0329700 - #9311960329706

Length: 0 mm

Width: 0 mm

Height: 0 mm

Weight: 0 g

A3 Orange (Pack 500)

0329810 - #9311960329812

Length: 0 mm

Width: 0 mm

Height: 0 mm

Weight: 0 g

A4 Red (Pack 500)

0329720 - #9311960329720

Length: 0 mm

Width: 0 mm

Height: 0 mm

Weight: 0 g

A3 Red (Pack 500)

0329830 - #9311960329836

Length: 0 mm

Width: 0 mm

Height: 0 mm

Weight: 0 g

A4 Light Blue (Pack 500)

0329740 - #9311960329744

Length: 0 mm

Width: 0 mm

Height: 0 mm

Weight: 0 g

A4 Bright Blue (Pack 500)

0329650 - #9311960329652

Length: 0 mm

Width: 0 mm

Height: 0 mm

Weight: 0 g

A3 Bright Blue (Pack 500)

0329770 - #9311960329775

Length: 0 mm

Width: 0 mm

Height: 0 mm

Weight: 0 g

A4 Lime (Pack 500)

0329690 - #9311960329690

Length: 0 mm

Width: 0 mm

Height: 0 mm

Weight: 0 g

A3 Lime (Pack 500)

0329800 - #9311960329805

Length: 0 mm

Width: 0 mm

Height: 0 mm

Weight: 0 g

A4 Green (Pack 500)

0329680 - #9311960329683

Length: 0 mm

Width: 0 mm

Height: 0 mm

Weight: 0 g

A3 Green (Pack 500)

0329790 - #9311960329799

Length: 0 mm

Width: 0 mm

Height: 0 mm

Weight: 0 g

A4 Purple (Pack 500)

0329710 - #9311960329713

Length: 0 mm

Width: 0 mm

Height: 0 mm

Weight: 0 g

A3 Purple (Pack 500)

0329820 - #9311960329829

Length: 0 mm

Width: 0 mm

Height: 0 mm

Weight: 0 g

A4 Gold (Pack 500)

0329670 - #9311960329676

Length: 0 mm

Width: 0 mm

Height: 0 mm

Weight: 0 g
 
Barcode
Length (mm)
Width (mm)
Height (mm)
Weight (g)

EDP:0329570

Cover Paper A4 Assorted Colours (Pack 500)

9311960329577
297
210
82
3898

EDP:0329600

Cover Paper 380 x 510mm Assorted Colours (Pack 500)

9311960329607
510
380
82
12112

EDP:0329610

Cover Paper 760 x 510mm Assorted Colours (Pack 250)

9311960329614
760
510
41
12112

EDP:0329630

A4 Black (Pack 500)

9311960329638
297
210
82
3898

EDP:0329640

A4 White (Pack 500)

9311960329645
295
215
80
0

EDP:0329760

A3 White (Pack 500)

9311960329768
420
297
82
7796

EDP:0329730

A4 Yellow (Pack 500)

9311960329737
0
0
0
0

EDP:0329840

A3 Yellow (Pack 500)

9311960329843
0
0
0
0

EDP:0329700

A4 Orange (Pack 500)

9311960329706
0
0
0
0

EDP:0329810

A3 Orange (Pack 500)

9311960329812
0
0
0
0

EDP:0329720

A4 Red (Pack 500)

9311960329720
0
0
0
0

EDP:0329830

A3 Red (Pack 500)

9311960329836
0
0
0
0

EDP:0329740

A4 Light Blue (Pack 500)

9311960329744
0
0
0
0

EDP:0329650

A4 Bright Blue (Pack 500)

9311960329652
0
0
0
0

EDP:0329770

A3 Bright Blue (Pack 500)

9311960329775
0
0
0
0

EDP:0329690

A4 Lime (Pack 500)

9311960329690
0
0
0
0

EDP:0329800

A3 Lime (Pack 500)

9311960329805
0
0
0
0

EDP:0329680

A4 Green (Pack 500)

9311960329683
0
0
0
0

EDP:0329790

A3 Green (Pack 500)

9311960329799
0
0
0
0

EDP:0329710

A4 Purple (Pack 500)

9311960329713
0
0
0
0

EDP:0329820

A3 Purple (Pack 500)

9311960329829
0
0
0
0

EDP:0329670

A4 Gold (Pack 500)

9311960329676
0
0
0
0