Jasart Interlocking Hog Bristle Round Brushes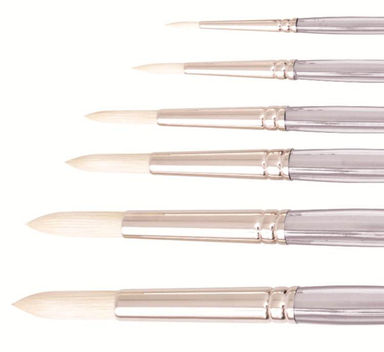 Fine quality hog bristle brushes. While specifically designed for use with oil, these quality brushes are equally suitable for acrylic.
Interlocking hog bristles have more spring and a longer lasting life.
Round shape is ideal for filling in colour as well as fine detail and drawing.
Size 2

0330890 - #9311960330894

Length: 304 mm

Width: 8 mm

Height: 8 mm

Weight: 6 g

Size 4

0330900 - #9311960330900

Length: 313 mm

Width: 9 mm

Height: 9 mm

Weight: 8 g

Size 6

0330910 - #9311960330917

Length: 319 mm

Width: 10 mm

Height: 10 mm

Weight: 9 g

Size 8

0330920 - #9311960330924

Length: 330 mm

Width: 13 mm

Height: 13 mm

Weight: 10 g

Size 10

0330930 - #9311960330931

Length: 337 mm

Width: 16 mm

Height: 16 mm

Weight: 11 g

Size 12

0330940 - #9311960330948

Length: 345 mm

Width: 18 mm

Height: 18 mm

Weight: 13 g
|   | Barcode | Length (mm) | Width (mm) | Height (mm) | Weight (g) |
| --- | --- | --- | --- | --- | --- |
| | 9311960330894 | 304 | 8 | 8 | 6 |
| | 9311960330900 | 313 | 9 | 9 | 8 |
| | 9311960330917 | 319 | 10 | 10 | 9 |
| | 9311960330924 | 330 | 13 | 13 | 10 |
| | 9311960330931 | 337 | 16 | 16 | 11 |
| | 9311960330948 | 345 | 18 | 18 | 13 |