Winsor & Newton Cotman Brushes Series 333 Short Handled Rigger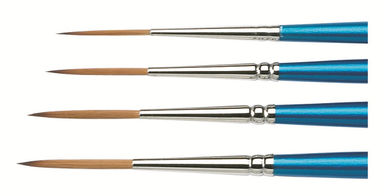 Cotman brushes are a range of pure synthetic watercolour brushes of the highest quality. By blending fibres of differing thickness, the three most important qualities sought after by artists' is acheived. Three thicker fibres contribute strength and spring whilst the thinner fibres improve colour carrying capacity. Together they retain a perfect point, time after time.
Series 333 brushes feature an extra fine point for painting lines, long scroll work and detail. Originally designed for painting the rigging on ships, these brushes are excellent for continuous fine lines e.g. tree branches and telephone wires.
Size 0

0358330 - #0094376948424

Length: 5 mm

Width: 5 mm

Height: 198 mm

Weight: 1 g

Size 1

0358340 - #094376948431

Length: 5 mm

Width: 5 mm

Height: 200 mm

Weight: 2 g

Size 2

0358350 - #0094376948448

Length: 5 mm

Width: 5 mm

Height: 203 mm

Weight: 3 g

Size 3

0358360 - #094376948455

Length: 6 mm

Width: 6 mm

Height: 205 mm

Weight: 2 g
|   | Barcode | Length (mm) | Width (mm) | Height (mm) | Weight (g) |
| --- | --- | --- | --- | --- | --- |
| | 0094376948424 | 5 | 5 | 198 | 1 |
| | 094376948431 | 5 | 5 | 200 | 2 |
| | 0094376948448 | 5 | 5 | 203 | 3 |
| | 094376948455 | 6 | 6 | 205 | 2 |