Winsor & Newton Sceptre Gold II Brushes Series 808 Fan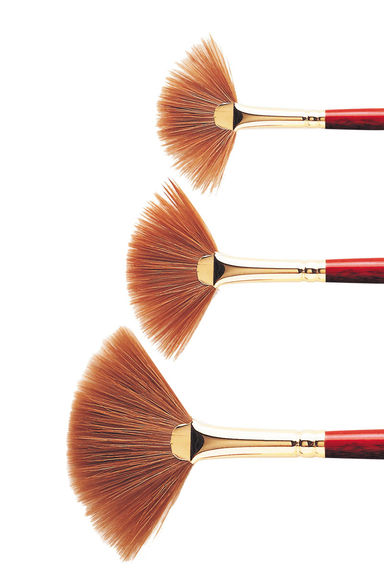 A brush made from a mix of pure sable and synthetic fibres, giving you a performance that's close to sable at a price closer to synthetic. They feature seamless gold plated nickel ferrules and vibrant terracotta stained handles.
Series 808 is perfect for blending, softening edges and creating texture with a short handle. This special fan shaped brush is designed for use where delicate blending effects are required in portraiture and other fine detail work.
Suitable for use with watercolour, fluid oil, acrylic and Griffin Alkyd Fast Drying Oil Colours.
Size 6

0362170 - #0094376935554

Length: 8 mm

Width: 65 mm

Height: 207 mm

Weight: 6 g
|   | Barcode | Length (mm) | Width (mm) | Height (mm) | Weight (g) |
| --- | --- | --- | --- | --- | --- |
| | 0094376935554 | 8 | 65 | 207 | 6 |