Made For You Confetti Shakers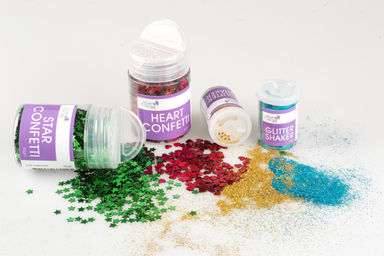 The Jasart Made For You Glitter collection is a fun and easy way to add the bright sparkle of glitter to craft projects.
Perfect for everyday craft projects, table sprinkles, school projects, parties, embellishing cards/scrapbooking and much more.
Shaker lid can be closed to avoid glitter spill.
Please contact your Jasco Sales Representative for details on receiveing your MFY Jasart Glitter Merchandising Stand.
Star Confetti 60gm - Silver

0380250 - #9311960380257

Length: 50 mm

Width: 50 mm

Height: 75 mm

Weight: 82 g

Star Confetti 60gm - Gold

0380260 - #9311960380264

Length: 50 mm

Width: 50 mm

Height: 75 mm

Weight: 82 g

Star Confetti 60gm - Blue

0380290 - #9311960380295

Length: 50 mm

Width: 50 mm

Height: 75 mm

Weight: 82 g

Star Confetti 60gm - Green

0380300 - #9311960380301

Length: 50 mm

Width: 50 mm

Height: 75 mm

Weight: 82 g

Heart Confetti 60gm - Silver

0380320 - #9311960380325

Length: 50 mm

Width: 50 mm

Height: 75 mm

Weight: 82 g
 
Barcode
Length (mm)
Width (mm)
Height (mm)
Weight (g)

EDP:0380250

Star Confetti 60gm - Silver

9311960380257
50
50
75
82

EDP:0380260

Star Confetti 60gm - Gold

9311960380264
50
50
75
82

EDP:0380290

Star Confetti 60gm - Blue

9311960380295
50
50
75
82

EDP:0380300

Star Confetti 60gm - Green

9311960380301
50
50
75
82

EDP:0380320

Heart Confetti 60gm - Silver

9311960380325
50
50
75
82