Made For You Glitter Shakers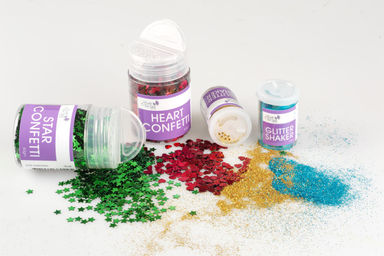 The Jasart Made For You Glitter collection is a fun and easy way to add the bright sparkle of glitter to craft projects.
Perfect for either small intricate projects or adding luster to large surfaces.
Shaker lid can be closed to avoid glitter spill.
Please contact your Jasco Sales Representative for details on receiveing your MFY Jasart Glitter Merchandising Stand.
Fine Glitter 15gm - Silver

0380340 - #9311960380349

Length: 35 mm

Width: 35 mm

Height: 46 mm

Weight: 25 g

Fine Glitter 15gm - Gold

0380350 - #9311960380356

Length: 35 mm

Width: 35 mm

Height: 46 mm

Weight: 25 g

Fine Glitter 15gm - Red

0380360 - #9311960380363

Length: 35 mm

Width: 35 mm

Height: 46 mm

Weight: 25 g

Fine Glitter 15gm - Blue

0380370 - #9311960380370

Length: 35 mm

Width: 35 mm

Height: 46 mm

Weight: 25 g

Fine Glitter 15gm - Green

0380380 - #9311960380387

Length: 35 mm

Width: 35 mm

Height: 46 mm

Weight: 25 g

Fine Glitter 15gm - Purple

0380390 - #9311960380394

Length: 35 mm

Width: 35 mm

Height: 46 mm

Weight: 25 g

Fine Glitter 15gm - Turquoise

0380400 - #9311960380400

Length: 35 mm

Width: 35 mm

Height: 46 mm

Weight: 25 g

Fine Glitter 15gm - Pink

0380410 - #9311960380417

Length: 35 mm

Width: 35 mm

Height: 46 mm

Weight: 25 g

Fine Glitter 15gm - Black

0397720 - #9311960397729

Length: 35 mm

Width: 35 mm

Height: 46 mm

Weight: 25 g

Fine Glitter 15gm - White

0397730 - #9311960397736

Length: 35 mm

Width: 35 mm

Height: 46 mm

Weight: 25 g

Fine Glitter 9g - Blue

0379710 - #9311960379718

Length: 0 mm

Width: 0 mm

Height: 0 mm

Weight: 0 g

Fine Glitter 9g - Turquoise

0379700 - #9311960379701

Length: 0 mm

Width: 0 mm

Height: 0 mm

Weight: 0 g

Fine Glitter 9g - Gold

0379660 - #9311960379664

Length: 0 mm

Width: 0 mm

Height: 0 mm

Weight: 0 g

Fine Glitter 9g - Red

0379670 - #9311960379671

Length: 0 mm

Width: 0 mm

Height: 0 mm

Weight: 0 g

Fine Glitter 9g - Pink

0379680 - #9311960379688

Length: 0 mm

Width: 0 mm

Height: 0 mm

Weight: 0 g

Fine Glitter 9g - Green

0379720 - #9311960379725

Length: 0 mm

Width: 0 mm

Height: 0 mm

Weight: 0 g

Fine Glitter 9g - Silver

0379650 - #9311960379657

Length: 0 mm

Width: 0 mm

Height: 0 mm

Weight: 0 g
 
Barcode
Length (mm)
Width (mm)
Height (mm)
Weight (g)

EDP:0380340

Fine Glitter 15gm - Silver

9311960380349
35
35
46
25

EDP:0380350

Fine Glitter 15gm - Gold

9311960380356
35
35
46
25

EDP:0380360

Fine Glitter 15gm - Red

9311960380363
35
35
46
25

EDP:0380370

Fine Glitter 15gm - Blue

9311960380370
35
35
46
25

EDP:0380380

Fine Glitter 15gm - Green

9311960380387
35
35
46
25

EDP:0380390

Fine Glitter 15gm - Purple

9311960380394
35
35
46
25

EDP:0380400

Fine Glitter 15gm - Turquoise

9311960380400
35
35
46
25

EDP:0380410

Fine Glitter 15gm - Pink

9311960380417
35
35
46
25

EDP:0397720

Fine Glitter 15gm - Black

9311960397729
35
35
46
25

EDP:0397730

Fine Glitter 15gm - White

9311960397736
35
35
46
25

EDP:0379710

Fine Glitter 9g - Blue

9311960379718
0
0
0
0

EDP:0379700

Fine Glitter 9g - Turquoise

9311960379701
0
0
0
0

EDP:0379660

Fine Glitter 9g - Gold

9311960379664
0
0
0
0

EDP:0379670

Fine Glitter 9g - Red

9311960379671
0
0
0
0

EDP:0379680

Fine Glitter 9g - Pink

9311960379688
0
0
0
0

EDP:0379720

Fine Glitter 9g - Green

9311960379725
0
0
0
0

EDP:0379650

Fine Glitter 9g - Silver

9311960379657
0
0
0
0