Lefranc & Bourgeois Extra Fine Oil Colour 40ml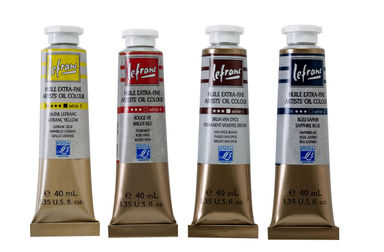 The skills of the masters combined with modern research make this premium and extensive range of colours perfect for artists.
Made from the highest quality mineral, organic and synthetic pigments used at maximum saturation. Each color has a creamy, even consistency, with outstanding light fastness and outstanding tinting strength, striking the perfect balance between opacity and transparency.
Japanese Yellow Light (183)

0035700 - #3013644050406

Length: 25 mm

Width: 39 mm

Height: 118 mm

Weight: 76 g

Chrome Yellow Deep Hue (167)

0385508 - #3013644045600

Length: 0 mm

Width: 0 mm

Height: 0 mm

Weight: 0 g

Senegal Yellow (195)

0385514 - #3013644045587

Length: 0 mm

Width: 0 mm

Height: 0 mm

Weight: 0 g

Chrome Yellow Medium Hue (166)

0385506 - #3013644045594

Length: 0 mm

Width: 0 mm

Height: 0 mm

Weight: 0 g

Japanese Yellow Orange (185)

0385450 - #3013644041503

Length: 0 mm

Width: 0 mm

Height: 0 mm

Weight: 0 g

Bright Orange (203)

0385456 - #3013644044481

Length: 0 mm

Width: 0 mm

Height: 0 mm

Weight: 0 g

Japanese Red Light (379)

0385468 - #3013644045631

Length: 0 mm

Width: 0 mm

Height: 0 mm

Weight: 0 g

Transparent Indian Orange (768)

0385554 - #3013644045617

Length: 0 mm

Width: 0 mm

Height: 0 mm

Weight: 0 g

Flesh Tint (301)

0385460 - #3013644044467

Length: 0 mm

Width: 0 mm

Height: 0 mm

Weight: 0 g

Lefranc Red (900)

0385556 - #3013644045648

Length: 0 mm

Width: 0 mm

Height: 0 mm

Weight: 0 g

Rose Madder (347)

0385466 - #3013644041626

Length: 26 mm

Width: 39 mm

Height: 118 mm

Weight: 53 g

Cadmium Red Deep (362)

0385598 - #3013644041640

Length: 0 mm

Width: 0 mm

Height: 0 mm

Weight: 0 g

Mars Red (381)

0385470 - #3013644045877

Length: 0 mm

Width: 0 mm

Height: 0 mm

Weight: 0 g

Alizarin Carmine (328)

0385516 - #3013644044924

Length: 0 mm

Width: 0 mm

Height: 0 mm

Weight: 0 g

Deep Madder Hue (346)

0385520 - #3013644045679

Length: 0 mm

Width: 0 mm

Height: 0 mm

Weight: 0 g

Lefranc Crimson (902)

0385592 - #3013644045662

Length: 0 mm

Width: 0 mm

Height: 0 mm

Weight: 0 g

Cobalt Red Violet (627)

0385610 - #3013644041756

Length: 25 mm

Width: 39 mm

Height: 118 mm

Weight: 73 g

Cobalt Violet Light (609)

0385608 - #3013644045693

Length: 0 mm

Width: 0 mm

Height: 0 mm

Weight: 0 g

Mineral Violet Light (616)

0385542 - #3013644045686

Length: 0 mm

Width: 0 mm

Height: 0 mm

Weight: 0 g

Mineral Violet (615)

0385540 - #3013644045716

Length: 0 mm

Width: 0 mm

Height: 0 mm

Weight: 0 g

Violet Deep (608)

0385606 - #3013644041794

Length: 25 mm

Width: 39 mm

Height: 118 mm

Weight: 86 g

Ultramarine Blue (Green Shade) (903)

0385494 - #3013644045723

Length: 0 mm

Width: 0 mm

Height: 0 mm

Weight: 0 g

Hoggar Blue (036)

0385422 - #3013644045747

Length: 0 mm

Width: 0 mm

Height: 0 mm

Weight: 0 g

Indian Blue (039)

0385502 - #3013644045730

Length: 0 mm

Width: 0 mm

Height: 0 mm

Weight: 0 g

Hortensia Blue (038)

0385424 - #3013644041893

Length: 0 mm

Width: 0 mm

Height: 0 mm

Weight: 0 g

Prussian Blue (046)

0385426 - #3013644041879

Length: 0 mm

Width: 0 mm

Height: 0 mm

Weight: 0 g

Cobalt Blue Turquoise (905)

0385612 - #3013644045778

Length: 0 mm

Width: 0 mm

Height: 0 mm

Weight: 0 g

Chrome Green Medium (507)

0385476 - #3013644042135

Length: 0 mm

Width: 0 mm

Height: 0 mm

Weight: 0 g

Japanese Green Light (536)

0385480 - #3013644045815

Length: 0 mm

Width: 0 mm

Height: 0 mm

Weight: 0 g

Antioche Green Light (510)

0385584 - #3013644044955

Length: 25 mm

Width: 39 mm

Height: 118 mm

Weight: 83 g

Cadmium Green (516)

0385586 - #3013644045808

Length: 0 mm

Width: 0 mm

Height: 0 mm

Weight: 0 g

Viridian (519)

0385604 - #3013644042012

Length: 25 mm

Width: 39 mm

Height: 118 mm

Weight: 73 g

Chrome Green Deep (505)

0385472 - #3013644045792

Length: 0 mm

Width: 0 mm

Height: 0 mm

Weight: 0 g

Phthalo Armor Green (906)

0385560 - #3013644045785

Length: 0 mm

Width: 0 mm

Height: 0 mm

Weight: 0 g

Sap Green Permanent (568)

0385588 - #3013644045839

Length: 0 mm

Width: 0 mm

Height: 0 mm

Weight: 0 g

Brown Transparent (110)

0385440 - #3013644045891

Length: 25 mm

Width: 39 mm

Height: 118 mm

Weight: 75 g

Golden Ochre (305)

0385396 - #3013644045860

Length: 0 mm

Width: 0 mm

Height: 0 mm

Weight: 0 g

Transparent Yellow Ochre (770)

0385492 - #3013644045846

Length: 0 mm

Width: 0 mm

Height: 0 mm

Weight: 0 g

Raw Umber (478)

0385404 - #3013644042319

Length: 0 mm

Width: 0 mm

Height: 0 mm

Weight: 0 g

Burnt Sienna (481)

0385406 - #3013644042272

Length: 0 mm

Width: 0 mm

Height: 0 mm

Weight: 0 g

Cassel Earth (475)

0385400 - #3013644045945

Length: 0 mm

Width: 0 mm

Height: 0 mm

Weight: 0 g

Iridescent White (022)

0385500 - #3013644045907

Length: 0 mm

Width: 0 mm

Height: 0 mm

Weight: 0 g

Bronze (712)

0385550 - #3013644045921

Length: 0 mm

Width: 0 mm

Height: 0 mm

Weight: 0 g
 
Barcode
Length (mm)
Width (mm)
Height (mm)
Weight (g)

EDP:0035700

Japanese Yellow Light (183)

3013644050406
25
39
118
76

EDP:0385508

Chrome Yellow Deep Hue (167)

3013644045600
0
0
0
0

EDP:0385514

Senegal Yellow (195)

3013644045587
0
0
0
0

EDP:0385506

Chrome Yellow Medium Hue (166)

3013644045594
0
0
0
0

EDP:0385450

Japanese Yellow Orange (185)

3013644041503
0
0
0
0

EDP:0385456

Bright Orange (203)

3013644044481
0
0
0
0

EDP:0385468

Japanese Red Light (379)

3013644045631
0
0
0
0

EDP:0385554

Transparent Indian Orange (768)

3013644045617
0
0
0
0

EDP:0385460

Flesh Tint (301)

3013644044467
0
0
0
0

EDP:0385556

Lefranc Red (900)

3013644045648
0
0
0
0

EDP:0385466

Rose Madder (347)

3013644041626
26
39
118
53

EDP:0385598

Cadmium Red Deep (362)

3013644041640
0
0
0
0

EDP:0385470

Mars Red (381)

3013644045877
0
0
0
0

EDP:0385516

Alizarin Carmine (328)

3013644044924
0
0
0
0

EDP:0385520

Deep Madder Hue (346)

3013644045679
0
0
0
0

EDP:0385592

Lefranc Crimson (902)

3013644045662
0
0
0
0

EDP:0385610

Cobalt Red Violet (627)

3013644041756
25
39
118
73

EDP:0385608

Cobalt Violet Light (609)

3013644045693
0
0
0
0

EDP:0385542

Mineral Violet Light (616)

3013644045686
0
0
0
0

EDP:0385540

Mineral Violet (615)

3013644045716
0
0
0
0

EDP:0385606

Violet Deep (608)

3013644041794
25
39
118
86

EDP:0385494

Ultramarine Blue (Green Shade) (903)

3013644045723
0
0
0
0

EDP:0385422

Hoggar Blue (036)

3013644045747
0
0
0
0

EDP:0385502

Indian Blue (039)

3013644045730
0
0
0
0

EDP:0385424

Hortensia Blue (038)

3013644041893
0
0
0
0

EDP:0385426

Prussian Blue (046)

3013644041879
0
0
0
0

EDP:0385612

Cobalt Blue Turquoise (905)

3013644045778
0
0
0
0

EDP:0385476

Chrome Green Medium (507)

3013644042135
0
0
0
0

EDP:0385480

Japanese Green Light (536)

3013644045815
0
0
0
0

EDP:0385584

Antioche Green Light (510)

3013644044955
25
39
118
83

EDP:0385586

Cadmium Green (516)

3013644045808
0
0
0
0

EDP:0385604

Viridian (519)

3013644042012
25
39
118
73

EDP:0385472

Chrome Green Deep (505)

3013644045792
0
0
0
0

EDP:0385560

Phthalo Armor Green (906)

3013644045785
0
0
0
0

EDP:0385588

Sap Green Permanent (568)

3013644045839
0
0
0
0

EDP:0385440

Brown Transparent (110)

3013644045891
25
39
118
75

EDP:0385396

Golden Ochre (305)

3013644045860
0
0
0
0

EDP:0385492

Transparent Yellow Ochre (770)

3013644045846
0
0
0
0

EDP:0385404

Raw Umber (478)

3013644042319
0
0
0
0

EDP:0385406

Burnt Sienna (481)

3013644042272
0
0
0
0

EDP:0385400

Cassel Earth (475)

3013644045945
0
0
0
0

EDP:0385500

Iridescent White (022)

3013644045907
0
0
0
0
3013644045921
0
0
0
0