Fabriano Artistico Watercolour Pads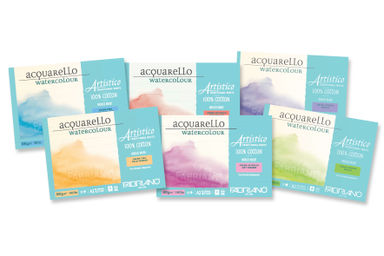 Fabriano Artistico Watercolour Paper is mould made, produced with 100% Cotton, Chlorine and Acid Free, guaranteeing long conservation and inalterability over time.
Now available in A size pads!
Each pad contains 12 sheets.
The paper is sized both internally and externally, making it ideally absorbent whilst retaining its characteristics even if scratched.
Traditional White is produced without optical brighteners.
This high quality paper satisfies the requirements of all professional artists whilst also being suitable for recreational artists.
Ideal for watercolour, tempera, acrylic, ink, charcoal, graphite and drawing. It is also suitable for printmaking.
25% Cotton Studio Pads are also available in A sizes!
Cold Pressed 200gsm - A5

0416730 - #9311960416734

Length: 210 mm

Width: 148 mm

Height: 8 mm

Weight: 130 g

Hot Pressed 300gsm - A2 Enhanced

0086620 - #8001348223900

Length: 148 mm

Width: 10 mm

Height: 210 mm

Weight: 100 g

Cold Pressed 300gsm - A5

0416770 - #9311960416772

Length: 210 mm

Width: 148 mm

Height: 8 mm

Weight: 130 g

Cold Pressed 200gsm - A4

0416740 - #9311960416741

Length: 297 mm

Width: 210 mm

Height: 8 mm

Weight: 260 g

Cold Pressed 300gsm - A4

0416780 - #9311960416789

Length: 297 mm

Width: 210 mm

Height: 8 mm

Weight: 260 g

Cold Pressed 200gsm - A3

0416750 - #9311960416758

Length: 420 mm

Width: 297 mm

Height: 8 mm

Weight: 520 g

Cold Pressed 300gsm - A3

0416790 - #9311960416796

Length: 420 mm

Width: 297 mm

Height: 8 mm

Weight: 520 g

Cold Pressed 200gsm - A2

0416760 - #9311960416765

Length: 594 mm

Width: 420 mm

Height: 8 mm

Weight: 520 g

Cold Pressed 300gsm - A2 Enhanced

0086530 - #8001348223948

Length: 148 mm

Width: 10 mm

Height: 210 mm

Weight: 100 g

Hot Pressed 200gsm - A5 Enhanced

0086600 - #8001348223993

Length: 210 mm

Width: 8 mm

Height: 148 mm

Weight: 500 g

Hot Pressed 300gsm A5 Enhanced

0086650 - #8001348223870

Length: 210 mm

Width: 8 mm

Height: 148 mm

Weight: 500 g

Hot Pressed 200gsm - A4

0416660 - #9311960416666

Length: 297 mm

Width: 210 mm

Height: 8 mm

Weight: 260 g

Hot Pressed 300gsm - A4 Enhanced

0086640 - #8001348223887

Length: 297 mm

Width: 10 mm

Height: 420 mm

Weight: 300 g

Hot Pressed 200gsm - A3

0416670 - #9311960416673

Length: 420 mm

Width: 297 mm

Height: 8 mm

Weight: 520 g

Hot Pressed 300gsm - A3

0416710 - #9311960416710

Length: 420 mm

Width: 297 mm

Height: 8 mm

Weight: 520 g

Hot Pressed 200gsm - A2

0416680 - #9311960416680

Length: 594 mm

Width: 420 mm

Height: 8 mm

Weight: 520 g

Rough 200gsm - A5

0416810 - #9311960416819

Length: 210 mm

Width: 148 mm

Height: 8 mm

Weight: 130 g

Rough 300gsm - A5 Enhanced

0086740 - #8001348223955

Length: 210 mm

Width: 8 mm

Height: 148 mm

Weight: 500 g

Rough 200gsm - A4

0416820 - #9311960416826

Length: 297 mm

Width: 210 mm

Height: 8 mm

Weight: 260 g

Rough 300gsm - A4

0416860 - #9311960416864

Length: 297 mm

Width: 210 mm

Height: 8 mm

Weight: 260 g

Rough 200gsm - A3

0416830 - #9311960416833

Length: 420 mm

Width: 297 mm

Height: 8 mm

Weight: 520 g

Rough 300gsm - A3

0416870 - #9311960416871

Length: 420 mm

Width: 297 mm

Height: 8 mm

Weight: 520 g

Rough 200gsm - A2

0416840 - #9311960416840

Length: 594 mm

Width: 420 mm

Height: 8 mm

Weight: 520 g

Rough 300gsm - A2

0416880 - #9311960416888

Length: 594 mm

Width: 420 mm

Height: 8 mm

Weight: 520 g
 
Barcode
Length (mm)
Width (mm)
Height (mm)
Weight (g)

EDP:0416730

Cold Pressed 200gsm - A5

9311960416734
210
148
8
130

EDP:0086620

Hot Pressed 300gsm - A2 Enhanced

8001348223900
148
10
210
100

EDP:0416770

Cold Pressed 300gsm - A5

9311960416772
210
148
8
130

EDP:0416740

Cold Pressed 200gsm - A4

9311960416741
297
210
8
260

EDP:0416780

Cold Pressed 300gsm - A4

9311960416789
297
210
8
260

EDP:0416750

Cold Pressed 200gsm - A3

9311960416758
420
297
8
520

EDP:0416790

Cold Pressed 300gsm - A3

9311960416796
420
297
8
520

EDP:0416760

Cold Pressed 200gsm - A2

9311960416765
594
420
8
520

EDP:0086530

Cold Pressed 300gsm - A2 Enhanced

8001348223948
148
10
210
100

EDP:0086600

Hot Pressed 200gsm - A5 Enhanced

8001348223993
210
8
148
500

EDP:0086650

Hot Pressed 300gsm A5 Enhanced

8001348223870
210
8
148
500

EDP:0416660

Hot Pressed 200gsm - A4

9311960416666
297
210
8
260

EDP:0086640

Hot Pressed 300gsm - A4 Enhanced

8001348223887
297
10
420
300

EDP:0416670

Hot Pressed 200gsm - A3

9311960416673
420
297
8
520

EDP:0416710

Hot Pressed 300gsm - A3

9311960416710
420
297
8
520

EDP:0416680

Hot Pressed 200gsm - A2

9311960416680
594
420
8
520

EDP:0416810

Rough 200gsm - A5

9311960416819
210
148
8
130

EDP:0086740

Rough 300gsm - A5 Enhanced

8001348223955
210
8
148
500

EDP:0416820

Rough 200gsm - A4

9311960416826
297
210
8
260

EDP:0416860

Rough 300gsm - A4

9311960416864
297
210
8
260

EDP:0416830

Rough 200gsm - A3

9311960416833
420
297
8
520

EDP:0416870

Rough 300gsm - A3

9311960416871
420
297
8
520

EDP:0416840

Rough 200gsm - A2

9311960416840
594
420
8
520

EDP:0416880

Rough 300gsm - A2

9311960416888
594
420
8
520