Artitude Board Thin Value Pack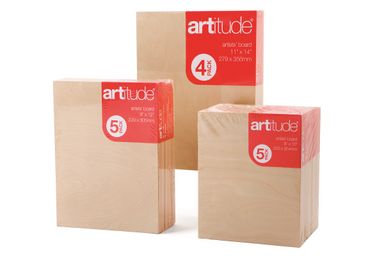 Un-primed Artist Board Value Packs.
Sanded, smooth solid painting surface, left in a natural state for the artist to
work on.
Surface can be used natural or suitable to be primed with acrylic gesso.
Thin ¾" and Thick 1.5" Edge
Ideal for use over a multitude of art & crafting applications.
8 x 8" FSC

0426350 - #9311960426351

Length: 115 mm

Width: 204 mm

Height: 204 mm

Weight: 0 g

9 x 12" FSC

0426360 - #9311960426368

Length: 95 mm

Width: 229 mm

Height: 305 mm

Weight: 0 g

11 x 14" FSC

0426370 - #9311960426375

Length: 76 mm

Width: 279 mm

Height: 356 mm

Weight: 0 g

12 x 12" FSC

0426380 - #9311960426382

Length: 76 mm

Width: 305 mm

Height: 305 mm

Weight: 0 g

16 x 20" FSC

0426390 - #9311960426399

Length: 406 mm

Width: 508 mm

Height: 225 mm

Weight: 1206 g

18 x 24" FSC

0426400 - #9311960426405

Length: 457 mm

Width: 609 mm

Height: 150 mm

Weight: 938 g
|   | Barcode | Length (mm) | Width (mm) | Height (mm) | Weight (g) |
| --- | --- | --- | --- | --- | --- |
| | 9311960426351 | 115 | 204 | 204 | 0 |
| | 9311960426368 | 95 | 229 | 305 | 0 |
| | 9311960426375 | 76 | 279 | 356 | 0 |
| | 9311960426382 | 76 | 305 | 305 | 0 |
| | 9311960426399 | 406 | 508 | 225 | 1206 |
| | 9311960426405 | 457 | 609 | 150 | 938 |