Artitude Canvas Thin Value Pack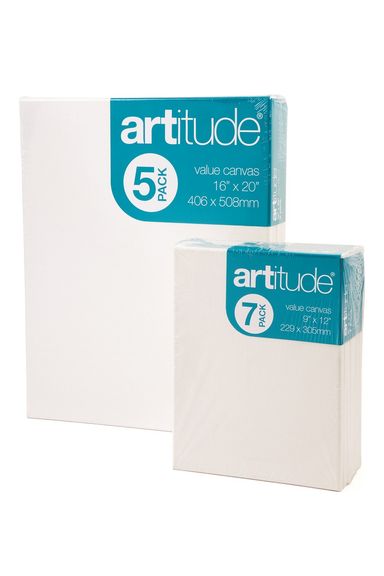 These economically friendly super value packs of canvas are great for lighter paint applications, quick studies, practice and classroom or high volume use.
Primed with acid-free acrylic gesso
Stretched around and back-stapled
¾" Edge, Kiln-dried fir stretcher bars
Suitable for use with all acrylic paints, oil paints and other wet or dry media.
Wood is FSC® certified.
8 x 10" FSC (Pack 10)

0425210 - #9311960425217

Length: 203 mm

Width: 242 mm

Height: 170 mm

Weight: 1575 g

9 x 12" FSC (Pack 7)

0425180 - #9311960425187

Length: 228 mm

Width: 290 mm

Height: 119 mm

Weight: 1250 g

12 x 12" FSC (Pack 7)

0425200 - #9311960425200

Length: 304 mm

Width: 290 mm

Height: 119 mm

Weight: 1533 g

11 x 14" FSC (Pack 7)

0425190 - #9311960425194

Length: 279 mm

Width: 338 mm

Height: 119 mm

Weight: 1617 g

16 x 20" FSC (Pack 5)

0425170 - #9311960425170

Length: 406 mm

Width: 484 mm

Height: 85 mm

Weight: 1875 g
 
Barcode
Length (mm)
Width (mm)
Height (mm)
Weight (g)

EDP:0425210

8 x 10" FSC (Pack 10)

9311960425217
203
242
170
1575

EDP:0425180

9 x 12" FSC (Pack 7)

9311960425187
228
290
119
1250

EDP:0425200

12 x 12" FSC (Pack 7)

9311960425200
304
290
119
1533

EDP:0425190

11 x 14" FSC (Pack 7)

9311960425194
279
338
119
1617

EDP:0425170

16 x 20" FSC (Pack 5)

9311960425170
406
484
85
1875