Beginner's Guide To Pottery & Ceramics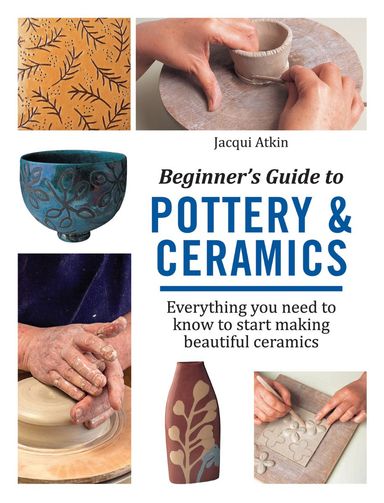 ISBN 9781782215592
Publisher Search Press
Format BC Paperback
Dimensions 215mm x 280mm
Pages 128
Pub Date May 2017
Description
Clay is an exciting material that has been used to make both practical and decorative items since prehistoric times. With this practical guidebook, learn all the skills you need to start creating your own beautiful ceramics.
Step-by-step photographs and clear instructions will guide you through the core techniques, including pinching and coiling and throwing and trimming. Discover inspirational projects as your skills progress, from simple coiled vases with painted decoration to marbled clay boxes with transparent glazes. Learn how to decorate and fire your clay vessels with myriad textures, using methods such as inlays, slips, sgraffito, feathering, burnishing and resist.
Following the impressive projects inside, you can put your new-found skills into practice and develop your creativity.
About the Author
Jacqui Atkin is a professional studio ceramicist, author and gallery owner living in rural Shropshire, England. Currently working as editorial consultant and project editor for ClayCraft magazine, she is one of the UK's foremost teacher-authors writing today. She is the author of Beginner's Guide to Pottery & Ceramics and Pottery You Can Use. She has amassed an impressive number of five-star reviews for her books on Amazon.
Book

0051980 - #9781782215592

Length: 215 mm

Width: 280 mm

Height: 10 mm

Weight: 530 g
|   | Barcode | Length (mm) | Width (mm) | Height (mm) | Weight (g) |
| --- | --- | --- | --- | --- | --- |
| | 9781782215592 | 215 | 280 | 10 | 530 |