Bella Vivo Artists Board Thin Edge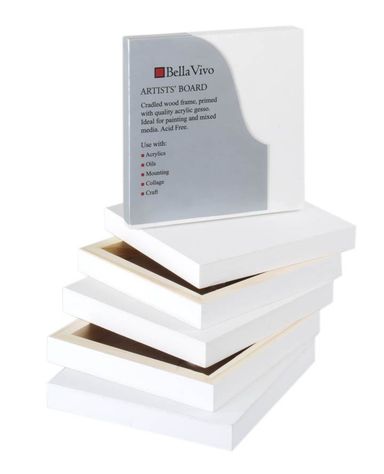 Artists Boards have been developed for the artists who are looking for the next innovation and something differing in painting surfaces.
Sturdy cradled hard board primed with premium acrylic gesso on the front and all sides. Ideal for use with Acylics, Oils, Mounting, Collage and Mixed Media.
Also suitable for many craft applications such as creating a personalised shadow box.
Available in both thin and deep edge profile .
8 x 10 inch (203 x 254mm)

0397350 - #9311960397354

Length: 203 mm

Width: 254 mm

Height: 19 mm

Weight: 190 g

16 x 20 inch (406 x 508mm)

0397400 - #9311960397408

Length: 406 mm

Width: 508 mm

Height: 19 mm

Weight: 610 g

6 x 6 inch (152 x 152mm)

0397330 - #9311960397330

Length: 152 mm

Width: 152 mm

Height: 19 mm

Weight: 100 g
 
Barcode
Length (mm)
Width (mm)
Height (mm)
Weight (g)

EDP:0397350

8 x 10 inch (203 x 254mm)

9311960397354
203
254
19
190

EDP:0397400

16 x 20 inch (406 x 508mm)

9311960397408
406
508
19
610

EDP:0397330

6 x 6 inch (152 x 152mm)

9311960397330
152
152
19
100