Brush With Acrylics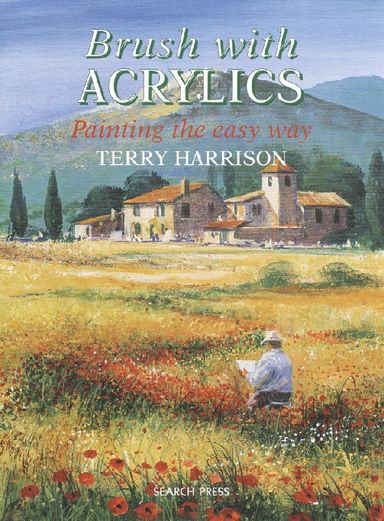 ISBN 9781844480081
Publisher Search Press
Format BB Hardback
Dimensions 216mm x 292mm
Page Extent 128
Pub Date September 2004
Description
Terry Harrison presents a refreshingly simple guide that is packed with excellent, easy-to-follow demonstrations illustrating how to create stunning paintings using the versatile qualities of acrylics. He explores a wide range of techniques with excellent tips on how to capture atmosphere, texture and detail and includes many step-by-step sequences and inspirational paintings.
Acrylics are easy to master and extremely versatile. Paint can be applied thick like oils, or in washes like watercolour. Also, techniques can be mixed to create unusual and different effects. Using a range of brushes, Terry explores all these different techniques showing how to capture atmosphere, texture and detail . He paints a selection of beautiful landscapes, seascapes and buildings with ease, showing how to apply colour to produce stunning pictures of atmospheric skies, mist covered rivers, vibrant fields of flowers, rustic buildings, calm estuaries and more.
With many hot tips and a wealth of practical advice, Terry presents an inspiring sequence of step-by-step demonstrations which aim to build up skills and encourage the artist to create their own original paintings.
Sequel to Terry Harrison's first book Brush with Watercolour
Popular author
Many clear step-by-step demonstrations
About the Author
Terry Harrison grew up in Norfolk, UK. His early art education was basic and he never dreamed that he would one day become an artist. At fifteen, Terry moved to Hampshire and, inspired by his brilliant art teacher, won a place at Farnham Art School at the age of sixteen. After graduating he became a graphic artist but continued to paint in his spare time. In 1984 Terry gave up his job to paint full time and never looked back, teaching and demonstrating his watercolour techniques throughout the world, developing his own range of brushes and paints and writing over 20 best-selling books that have been translated into many languages. Sadly, Terry passed away in 2017 but his legacy lives on. His gift for explaining his methods in an easy and accessible way has encouraged countless people to take up painting, and his beautiful works of art, inspired by the English countryside that he loved, will continue to be enjoyed by people all over the world.
Book

0019200 - #9781844480081

Length: 450 mm

Width: 320 mm

Height: 160 mm

Weight: 17700 g
|   | Barcode | Length (mm) | Width (mm) | Height (mm) | Weight (g) |
| --- | --- | --- | --- | --- | --- |
| | 9781844480081 | 450 | 320 | 160 | 17700 |