Winsor & Newton Galeria Brushes Short Handled Round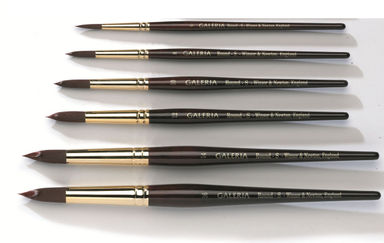 Galeria brushes have been specifically designed for use with acrylic colour. The synthetic filaments in the flats are curved, helping the brushes retain their original shape during use and the rounds offer a good point for delicate linear application. Regardless of the volumes of water used in acrylics, the use of synthetic fibres ensures good shape retention particularly in comparison to traditional hogs.
The Short Handled Round Brush is perfect for fine detail, lines and washes. This short handled brush has a softer head and is designed for artists who use acrylic colour in a thinner consistency.
Size 00

0219568 - #0094376873115

Length: 5 mm

Width: 5 mm

Height: 184 mm

Weight: 2 g

Size 0

0219570 - #0094376873122

Length: 5 mm

Width: 5 mm

Height: 184 mm

Weight: 2 g

Size 1

0219572 - #0094376873139

Length: 5 mm

Width: 5 mm

Height: 186 mm

Weight: 2 g

Size 2

0219574 - #0094376873146

Length: 5 mm

Width: 5 mm

Height: 188 mm

Weight: 3 g

Size 3

0219576 - #0094376873153

Length: 6 mm

Width: 6 mm

Height: 191 mm

Weight: 3 g

Size 4

0219578 - #0094376873160

Length: 6 mm

Width: 6 mm

Height: 193 mm

Weight: 4 g

Size 5

0219580 - #0094376873177

Length: 7 mm

Width: 7 mm

Height: 196 mm

Weight: 4 g

Size 6

0219582 - #0094376873184

Length: 7 mm

Width: 7 mm

Height: 200 mm

Weight: 6 g

Size 8

0219584 - #0094376873191

Length: 8 mm

Width: 8 mm

Height: 208 mm

Weight: 5 g

Size 10

0219586 - #0094376873207

Length: 10 mm

Width: 10 mm

Height: 215 mm

Weight: 8 g

Size 12

0219588 - #0094376873214

Length: 11 mm

Width: 11 mm

Height: 221 mm

Weight: 9 g

Size 14

0219590 - #10094376873228

Length: 14 mm

Width: 14 mm

Height: 260 mm

Weight: 19 g

Size 16

0219592 - #0094376873238

Length: 17 mm

Width: 17 mm

Height: 264 mm

Weight: 26 g
|   | Barcode | Length (mm) | Width (mm) | Height (mm) | Weight (g) |
| --- | --- | --- | --- | --- | --- |
| | 0094376873115 | 5 | 5 | 184 | 2 |
| | 0094376873122 | 5 | 5 | 184 | 2 |
| | 0094376873139 | 5 | 5 | 186 | 2 |
| | 0094376873146 | 5 | 5 | 188 | 3 |
| | 0094376873153 | 6 | 6 | 191 | 3 |
| | 0094376873160 | 6 | 6 | 193 | 4 |
| | 0094376873177 | 7 | 7 | 196 | 4 |
| | 0094376873184 | 7 | 7 | 200 | 6 |
| | 0094376873191 | 8 | 8 | 208 | 5 |
| | 0094376873207 | 10 | 10 | 215 | 8 |
| | 0094376873214 | 11 | 11 | 221 | 9 |
| | 10094376873228 | 14 | 14 | 260 | 19 |
| | 0094376873238 | 17 | 17 | 264 | 26 |