Jasart Gold Taklon Long Liner Brushes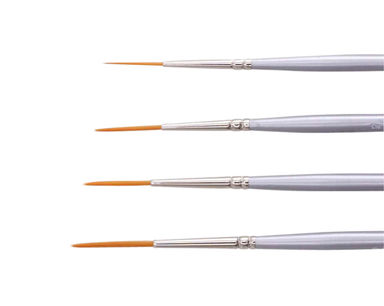 Long Liner Gold Taklon brushes are suitable for delicate lettering, highlighting and long continuous strokes.
Synthetic hair filaments are an excellent alternative to natural hair, ideal for Acrylic, Watercolour, Poster Colour, Gouache and Tempera.
Features include long liner bristle shape with short silver handle.
Size 2/0

0319290 - #9311960319295

Length: 275 mm

Width: 45 mm

Height: 4 mm

Weight: 4 g

Size 0

0319300 - #9311960319301

Length: 275 mm

Width: 45 mm

Height: 4 mm

Weight: 5 g
|   | Barcode | Length (mm) | Width (mm) | Height (mm) | Weight (g) |
| --- | --- | --- | --- | --- | --- |
| | 9311960319295 | 275 | 45 | 4 | 4 |
| | 9311960319301 | 275 | 45 | 4 | 5 |